Thursday October 31, 2002
Tuesday October 29, 2002
I found this: A LETTER TO A HINDU: THE SUBJECTION OF INDIA-ITS CAUSE AND CURE By Leo Tolstoy with an Introduction by M. K. GANDHI because of a link on Ftrain.com and I'm posting an excerpt as well as encouraging you to read it.
Never read any Tolstoy before but I'm impressed with this little ditty. He pretty much nails it right in the beginning and I've quoted that part. And all he says is applicable today. Just replace The British East India Company with television.
The reason for the astonishing fact that a majority of working people submit to a handful of idlers who control their labour and their very lives is always and everywhere the same-whether the oppressors and oppressed are of one race or whether, as in India and elsewhere, the oppressors are of a different nation.

This phenomenon seems particularly strange in India, for there more than two hundred million people, highly gifted both physically and mentally, find themselves in the power of a small group of people quite alien to them in thought, and immeasurably inferior to them in religious morality.

From your letter and the articles in Free Hindustan as well as from the very interesting writings of the Hindu Swami Vivekananda and others, it appears that, as is the case in our time with the ills of all nations, the reason lies in the lack of a reasonable religious teaching which by explaining the meaning of life would supply a supreme law for the guidance of conduct and would replace the more than dubious precepts of pseudo-religion and pseudo-science with the immoral conclusions deduced from them and commonly called 'civilization'.

Your letter, as well as the articles in Free Hindustan and Indian political literature generally, shows that most of the leaders of public opinion among your people no longer attach any significance to the religious teachings that were and are professed by the peoples of India, and recognize no possibility of freeing the people from the oppression they endure except by adopting the irreligious and profoundly immoral social arrangements under which the English and other pseudo-Christian nations live to-day.

And yet the chief if not the sole cause of the enslavement of the Indian peoples by the English lies in this very absence of a religious consciousness and of the guidance for conduct which should flow from it - a lack common in our day to all nations East and West, from Japan to England and America alike.

Saturday October 26, 2002
Friday October 25, 2002
Shit, I missed a day. I was at the Mountain Goats show (they have a new abum on 4AD) and then the game (woudn't that be something if it was a close play and they ran over Dusty's 3 year old kid at home plate instead of snatching him up by the jacket?) and Dennis's birthday party and I just missed posting so here's the picture. The reason I'm saying I missed a day is that I used to post a photo every day and I was trying to do that again.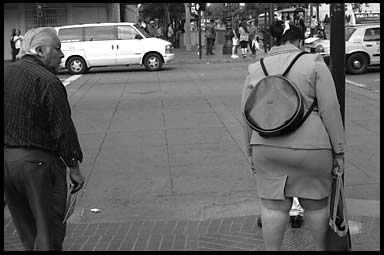 Wednesday October 23, 2002
I don't know if this officially counts but I rescanned and "reprinted" this photo of a stairwell in Chinatown as the first one was only a quick proof. So here, I present to you, a stairwell in Chinatown, San Francisco! Thank you.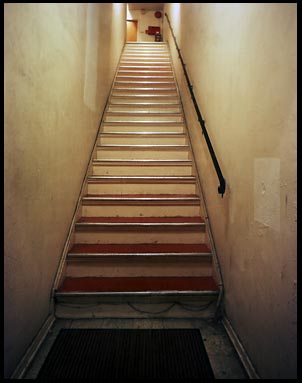 Tuesday October 22, 2002
One more Havana. Next to last shot I took there. I was in the square and setting up this picture when Squash and the musicians came by on their way to get some mojitos (again! for one last time!) and I said to wait but they didn't. That one kinda pissed me off 'cause it was only 30 seconds or something and they acted like they didn't need me if they had Squash but I sheepishly searched around for the bar they'd gone to and upon entering was immediately swept up into the "Chan Chan" one more time and laid it down for a round one more time and refused further payments for probably the first time (oh you can't imagine the frowns and dismay!) and got out of there feeling like we'd be squeezed for one last party by the locals. I was cool with them before that but that last time sorta turned things for me. I been squeezed by more locals than Squash I think. At the very point you're feeling great and people are being really nice to you, you have to distrust those people and I guess I have a talent for that. At least they're begging for a party.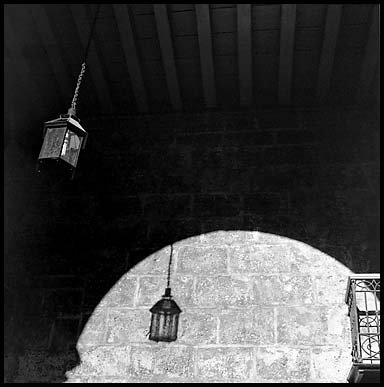 Monday October 21, 2002
Sunday October 20, 2002
Didn't scan these Havana shots last year. Figured the negs were too thin but I pulled a couple out. Here's one of my favorite subjects, school girls.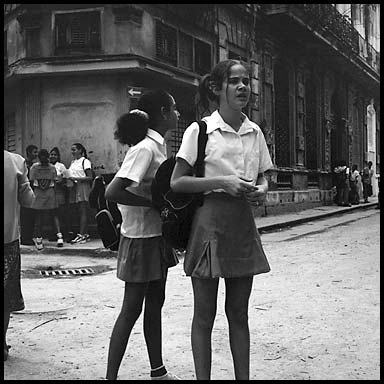 Saturday October 19, 2002
Outside 111 Minna. Goes with this shot.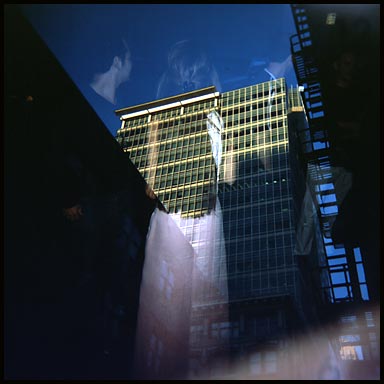 Friday October 18, 2002
Vetiverse is up and running and it's one of the most nicest website designs I've ever seen. My friends Andy and Alissa contiune to impress me with everything they touch and I'm glad that, even as I get OLD, I still have some young people in my life who will put up with me.
Vetiver plays at the Adobe bookstore tonight at 6. Papercuts and Travis Graves are also playing and I like the Papercuts a lot. Should be a scene.
I just got a monitor Spyder so I'm gonna start scanning more. This here's some house in the Glen Park area -- or whatever that's called on West Portal where you're above the sunset district.
Went to see Enon tonight and the band before them called The Helio Sequence was "fuckin hella tight" as one drunk-ass dude said as we was sharing a cig and I didn't know it at the time but they were better than Enon. Guess they're just kids. The kids stomp on shitloads of pedals and chew the air and dance while they shred and wear little faded t-shirts. The kids rock.
I, however, am an OLD MAN and as I came home from the show at the Bottom of the Hill (probably the 300th show I've seen there) I wondered if that's what it's going to be like being old or if it's going to get worse. Actually I know it's going to get worse but I wonder how. Are all the youthful things (flirting with cute, trendy girls, smoking on the sidewalk, standing with a pint glass resting on my belly in a bar by myself) that are close and familiar, going to turn into distant, alienating situations to be avoided? My friend John Freeman knows about that stuff. I tried to channel him tonight and just enjoy myself. I suppose it worked alright. I guess standing in the Bottom of the Hill just feels stupid because it is. I'll be back there next week for the Mountain Goats.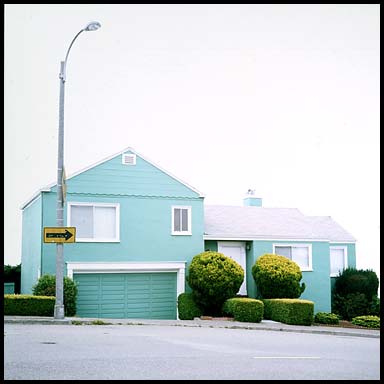 Thursday October 17, 2002
Here's another one of an elevated freeway. This is the same place that I shot that train. It's West Oakland. I didn't know what it would look like because it was totally black under there but if you point a camera at something long enough, all kinds of weird colors come out.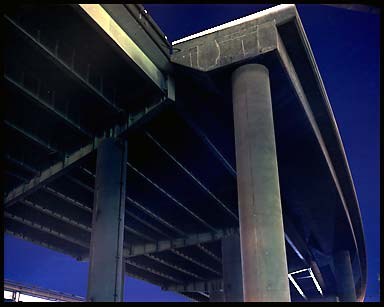 Still fucked up. But for different reasons.
Friday October 4, 2002
Thursday October 3, 2002
I watched "Iris", that film about Iris Murdoch and her husband and how they deal with her getting Alzheimer's and it seriously fucked me up. Because she was so cool and smart and he loved her so fucking much and it sounds corny, but I miss my brain-addled mom, so I cried a helluva lot. I just couldn't help it. I didn't know why I was crying and I wanted to see the movie so I wasn't really "goin with the flow" and I kept choking it back but it was going to come out no matter what I did. Then after it was over I really felt like writing something, being all emotional and everything. I got up and sorted through my old bills and made sure they were all paid and then I clicked on some Belle & Sebastian mp3's and while I was digging around on my desk I found some old film that I never scanned and this photo was on the end of the roll. That was my Canon P coming to the end of a roll and not letting me advance the film all the way but still letting me cock the shutter. Well, that emotional stuff was over an hour ago but I still feel all raw inside. I'm glad it's a good photograph.

Wednesday October 2, 2002
KPOO is the unity in the community.
LVD is with you mikeside at the Inside Lover's Lounge. Right now, at 2:30am, love is what it's all about.
After bustin' some Gill Scott Heron "Message to the Messengers" and some Stevie Wonder "Redemption Song" he came out with a shockingly beautiful sermon about how we get ourselves out of this mess. So much love in his deep deep scratchy voice. "We're beautiful. We are beautiful. And those that know owe...those that don't know."

"Here's what you do: The first thing you do in the morning is tell the first person you see that you love them. And mean it. It doesn't have to be about sex. Just human being to human being."
LVD is a treasure from midnight to 3am on Wednesdays. 89.5 FM. Those that know owe.
Don't be afraid.