Wednesday January 29, 2003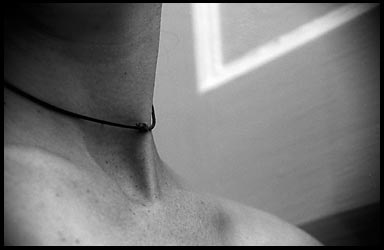 Monday January 27, 2003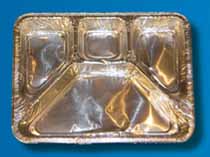 "lest we forget how fragile we are"
Saturday January 25, 2003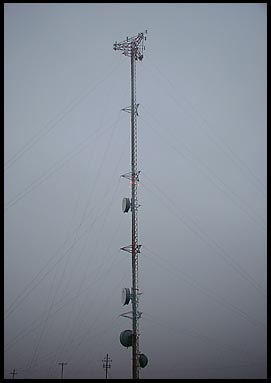 Friday January 24, 2003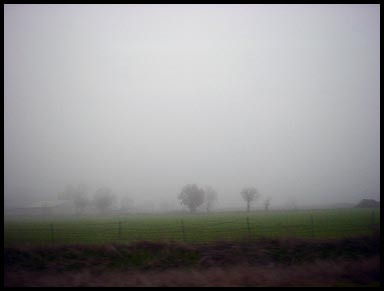 Thursday January 23, 2003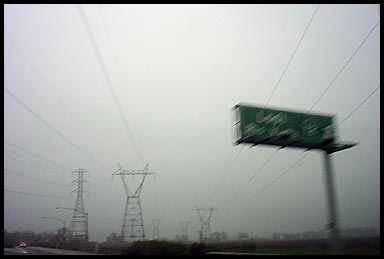 Tuesday January 14, 2003
We doin' big pimpin. Me aint writin nothing. Miguel Nelson and David Primmer are riding in the ice cream truck back to LA. By the Boot Barn and the Bun Boy. The boys came through here last Friday afternoon and David was using his laptop in the passenger's seat as he is now. David felt remorseful and a little incompetent. Miguel was irritated and sure he would soon get over it. There had been some missteps on their way to Las Vegas. Miguel was worried that they might not have enough drugs to last the weekend and were making a late start. David was worried that he would spend money on things he didn't want to buy. Miguel worried that David wasn't as committed to having a fucking amazing time as he would like from his friends. David was worried that Miguel was slightly psychotic and capable of totally loosing track of the line between fantasy and reality at any moment.
The boys were in pursuit of hedonism's highest peaks. The boys had 3 hours left in the truck before they arrived at the AVN Adult Entertainment Conference. David wanted to make up for the fact that he had neglected to accomplish any of the preparatory tasks that had been delegated to him by Miguel. He now had to design business cards and formulate a workable business plan for an assault on the porn industry. The name of the business was taking a long time but the front-runner was "Best Picture". They argued incessantly about the way in which they should use Olympus Eye-Tech head mounted display goggles to preview and rent the newest and hottest adult entertainment DVDs to patrons of many of the nation's mom-n-pop video stores. Even the smallest store with limited resources could have a world class and perfectly discreet porn offering. No need to create a seedy little closet in the back of the store to collect old and inconsequential porno detritus. They agreed on that. However, they disagreed on the business model.
David, more conservative and technical minded, preferred a scenario where a simple catalog of titles was made available to a store, content programming being handled by Best Picture. And a simple 500 dollar technical investment in a portable DVD player and some goggles allowed patrons to preview titles on a catalog DVD that were then rented through the video store's traditional operations – video store keeping all the rental fees for the title. The profit from the business would come from a monthly rental fees for the previewing kiosk and the subscription to the latest DVD titles. A copy of the simple ATM or jukebox franchising scheme.
Miguel wanted to implement all the functions of a porn-only video store in a computer kiosk with a card swiper and then pay video stores to host the box. The renter would be able to browse only the currently available titles and make a selection using a completely automated system. Best Picture would pay the video store to host the machine and to do a small amount of media handling, noting when titles were returned and providing a means for drop off. Credit card charges for the rentals would go directly back to Best Picture.
Miguel was the only one who actually gave a shit about the business and thought David's plan was the work of an anemic retard with no balls. David couldn't stand to be associated with Miguel's stupid and unwieldy scheme that would surely hemorrhage money but assumed he would have to capitulate to Miguel since Miguel was going to do all the talking.
They didn't know it at the time, but the boys would become sickened and bored by the entire porn industry and all its trappings, fleeing back to the banality of heterosexual discos and casino cocktail counters. Miguel got dressed in the parking lot, pulling on his deerskin cowboy boots and David put on a stretchy black shirt. The boys liked porn but what the really wanted was some sort of gonzo porn party crashing experience that they could tell their grandchildren about. They were in pursuit of the holy grail -- an invite to Club Rubber, hosted by Vivid Entertainment – but first they had to tell a few untruths, such as the one about them being porn video kiosk entrepreneurs, and they had to pay 75 dollars to a nice older lady behind the counter for their trade show badges, and they had to ask Ron Jeremy "Do you know where the party is" a few times. The experience was bewildering and not in the least bit arousing (well, the part with Ron Jeremy was rather arousing).
A pornography convention is somewhat different from your average trade show. There is networking to be done and there are a few booths for the companies that offer DVD burning tools or porn friendly ISPs but the life-blood of the show is female porn stars signing autographs. There are admission levels for people in the trade, like David and Miguel, and there is a $35 fan admission. Fans don't get badges; they just roam around with their DV cameras and stick their heads between every pair of bulging boobs they can find. There are booths selling T-shirts. This should be an indication of how different it is. If there's one thing that's usually given away at trade shows it's T-shirts. There are booths selling dildos. What self respecting porn star needs to go to a convention to pick out a dildo? Call someone in charge: This trade show is a front. It is scheduled the same week as the Consumer Electronics Show for a reason. The biggest consumers of porn are young techno geeks.
As the bewilderment wore off, David surmised that they felt feeble and superfluous because among the porn stars, they were in fact like so much background radiation filling up the galaxy. They were only different from the fans clogging the aisles if they wanted to talk to someone in a booth and use those business cards they had printed at Kinko's just an hour earlier. David looked to Miguel for leadership. He tried to sense when magic fantasy was going to kick in and Miguel would move quickly and decisively into the inner sanctum of the industry. But Miguel was tired from the drive and not feeling it. This left the two boys in the very middle of a black hole of femininity caused by the massive masculine attractive forces of a porn and a consumer electronics show. It was very cold in there. They were inside the event horizon and strict laws determined that there would be no unguarded single women. This would seem like a disaster, as in general, what boys go to parties for is bountiful unguarded single women. But Miguel, the true girl-crazy member of the team, was undaunted because his focus was on gaining admission to the afterparties and talking about it afterwards.
Miguel called Adam who gave him the name Vena at the Mirage who gave him the name Jim Malibu from Plastic Fantasy as an inside connection. Jim didn't know where the Vivid party was but told the boys to hang out around the central bar of the Venetian around eight to schmooze with the conference goers. He didn't ask a single question about the business or what kind of franchising scheme had been settled on. The boys rested, put on some cologne and cabbed it over to the Venetian.
The central bar of the Venetian turned out to be an informal version of the trade show, wherein a few fat old men, (the power players in the porn industry) chatted while a few porn stars with watermelon breasts signed autographs. At the center of a swirling galaxy of nerdy men was a large tuft of bleached blonde hair. A few of these galaxies were clumped around the bar. The boys wanted to use their flirtatious powers to ply for information. There were no actual women within 5oo light years. Miguel and David looked around for someone cool to talk to who looked like they might know where a party is. They'd heard that they may be taking place in the rooms upstairs. Men stood empty handed with blank stares on their faces. They leaned against slot machines in their bomber jackets emblazoned with "NEC". No one talked to each other. Everyone was focused on their porn star. Except David and Miguel: they wanted a party. Where, apparently they assumed it was going to be different – with the porn stars and generally horny women possibly outnumbering the men. And the men being of the caliber to at least put Ron Jeremy to rest. Or maybe they just didn't think at all.
The boys walked to the elevators to see if they could just trawl the corridors of the hotel and possibly detect the presence of a party. They weren't letting anyone go up without at room key. Everything had been carefully planned for their exclusion. They cabbed it to the Mandalay Bay for dinner and asked the bartenders where the party was. They didn't know. They tipped the hostess for line passes to the Rum Jungle and promised to return some time when it was hot and packed. They started building escape routes.
Near midnight they cabbed over to the Hard Rock Hotel and asked their driver if he knew where the porn party was and he said it was in club Rain. But strangely, at this point, the boys were frustrated with their experiences with the porn industry and simply wanted to be in a normal environment where people were actually having a good time in a more normal sort of way. The folks at the Hard Rock fulfilled this desire in a very normal sort of way. The boys knew where the porn party was, so they could go if they wanted -- if normal life turned out to be not so good. And Miguel, for one, was determined to at least have normal life be quite good.
The boys began to ingest intoxicants at an alarming rate. Nothing had worked quite well enough to this point. They sat at the big round bar and watched the same patterns appear that they'd seen earlier in the night. Smaller breasted but better dressed women who looked either like Cristina Aguilera or Jennifer Aniston drew the leering gazes of the men who outnumbered them by five to one. Miguel began to enjoy the presence of these normally very attractive women and deride what he referred to as "The big, dumb guys with jobs." Miguel wondered, how could so many women who had done so much to accentuate their prodigious physical gifts only be surrounded by a homogeneous and clearly unimaginative group of men? Could it be that the women too were as vapid as the men but he was simply spellbound by their asses? It could not be. He had to find out. David wondered why so many negative thoughts continued to cloud his head about the relations between men and women. Negative things similar to what Miguel had wondered, but so many more of them and of a much more bleak nature. He was determined to drown them out.
David was able to ingest quite a few more intoxicants while Miguel pursued a particularly interesting Japanese woman with a couture handbag. Miguel was so interested, in fact, that he forgot about his "big dumb guys with jobs" theory and simply had a stunningly good fifteen minute conversation with the woman. However, some sense of loyalty or fear returned Miguel to David at the bar and when Miguel returned to the woman she was gone. She had kissed him on the cheek within five minutes and had told him "Don't leave without me". A truly shocking and vexing turn of events. The boys looked for her for another half hour but she was gone. They walked across the street to the Double Down for a change of pace.
The Double Down was even more normal than the Hard Rock but not in the "blonde maple with brushed stainless steel" or the "ESPN on the flatscreen" way that the Hard Rock was normal. More like in a "graffiti'd up black-walled punk rock dive in a strip mall" sorta way. There were two fights while the boys drank and watched the punk band. The band was a low-rent hardcore group ringed with their buddies shouting the words and mildly pushing one another. David was quite comfortable and more involved than Miguel, having spent at least as much time in this way as Miguel had spent in a disco. But in the interest of satisfying both of the boys needs, soon it was time to go to a disco. And they cabbed it over to the Barbary Coast to get into a club called Drai.
Drai's was $20 and long-lined with the sort of crowd that didn't intrigue either member of the moving two-man party, and when all means of scamming admittance had been attempted and scuttled, the boys cabbed it over to the Rum Jungle.
Let's just skip the telling of the disaster that was the Rum Jungle because this is a long story and everyone has probably been to an overpriced, empty and flatulent disco. But inside this disco the boys talked to a very kind member of the staff who told them of the secret of Seven. As David stood under a caged woman go-go dancing they were told that club Seven would be the place where the friendly and extremely attractive member of the staff would be if she wasn't helping keep everyone from having a good time at the Rum Jungle.
The boys cabbed it over to the Seven where they succeeded in spending another $20 admittance each within a half hour. Yes, a sad thing, but the boys had found what they were looking for. Or, rather, when they heard the exquisitely dirty progressive house and electroclash inside the club they decided that the music was all they needed. They happily danced in the moderately crowded and sexually mixed environment for the next 4 hours and walked in the morning sun back to their hotel room at the Luxor.
Monday January 13, 2003
Wednesday January 8, 2003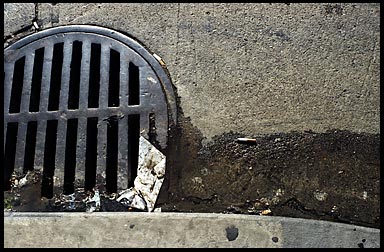 Tuesday January 7, 2003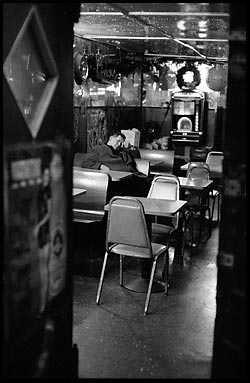 Monday January 6, 2003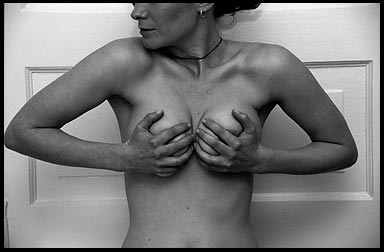 Saturday January 4, 2003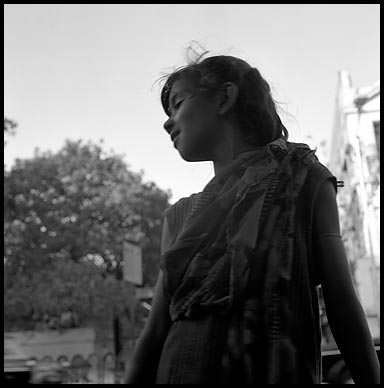 Friday January 3, 2003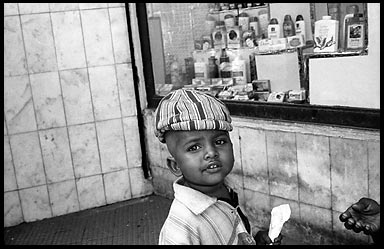 Colaba district, Bombay. I don't seem to be able to stop taking pictures of cute kids. I may have a problem.
Thursday January 2, 2003