Tuesday January 29, 2002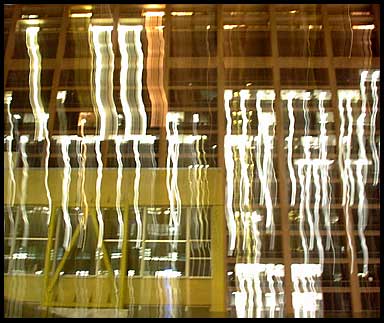 I didn't say anything about last Thursday and it's kind of late now but I did take this picture on the roof of the Grotto. And, I was truly impressed with the performance at the library. The reading and photos were fantastic and as the night wore on the party on the roof got fun for me. With so many rich and successful people around I admit to going into a corner. I'm not afraid of crowds of people but there was only one guy who even looked like a writer there and he was French. The party was exactly like the old dot-com catered bashes of a couple of years ago. There was a pro videographer and a photographer documenting it. You could either say these guys know how to work it or that they're pompous bores. It's too easy to accuse these guys from my perspective. They're probably both. I hope someone stops me next time I go on about how many thousands of dollars I left behind to go make art. I now know how bad it sounds to someone who doesn't make shit. I think the hardest thing was seeing myself in all the schmoozers. I felt repulsed by everyone except my close friends. Mental illness or a moment of clarity? Hmmm. Seems I've asked myself that question on more than one occasion.
Review of Wahl Wet-Dry Personal Trimmer
---------------------------------------------
Wahl Personal Groomer-Ahhh, the Joys of Aging
by _______ | Apr 09 '01

Pros: Does the job
Cons: I can't believe my husband actually needs a product like this...
The Bottom Line: Nostril hair? You need it!
Recommended: Yes
I've been buzzing around Epinions during their temporary/permanent shut down this weekend looking for some new topics to write about. Since I can't write about all the new toys my kids got for Christmas, or even the new beauty products out on the market, I started looking for some other products that we own. Never in my wildest dreams did I think I'd be writing about my husband's personal nose and ear groomer. I mean yuck!
So with my brow furrowed and with the disgusted look on my face, I'm going to attempt to tell you all about my husband's Wahl Personal Trimmer.
The Product:
The Wahl Personal Trimmer is a five-inch long, hand-held, battery operated nose-hair and ear-hair trimmer. It takes one AA battery that slides right into the bottom of the round torture device. The Wahl has a stiff on and off switch and at the top is a half-inch long metal blade cover protecting the blade on the inside. The way it works is you actually stick the metal apparatus up your nose, or in your ear, and turn the product on. Two small blades wiz around on the inside of the metal protector, much like an electric razor, and cuts the hairs away. It can be used dry or wet, and you can rinse the stubble away when you're done.
Our Experience:
My husband and I have been married for almost 10 years now. Even though my husband was "mature" when we married, his hair follicles weren't. Can you say no chest hair? Which was actually fine with me, I prefer a hairless chest. But he also couldn't grow a full beard either. That too was ok with me. And I wasn't marrying him for his facial hair anyway.
But something happens to men as they age. They loose hair in places they shouldn't, and grow hair in places that weren't meant to have hair. Now lucky for my husband, his DNA prevents his hair on his head from turning loose, but darned if hair started sprouting out in the funkiest of places. Two of those places being his nostrils and his ear. Isn't the word nostril icky? I mean who thought of that anyway?
So I walk in the bathroom one day and there stands my husband with my cutical scissors up his nose. "What in the heck are you doing!?" I ask. Like I was some idiot he replied "Baking brownies...what's it look like I'm doing? I'm cutting my nose hairs." I knew right then, there must be other men with this "disorder", and more than likely they made a product for it. A few weeks later while at Wal-Mart I purchased the Wahl Personal Groomer for him. It's black with gold letter and quite masculine in nature. Actually, I have to admit I used it as a stocking stuffer at Christmas for him. When he opened it, he had no idea what it was, but after a brief description he raced to the bathroom to personally groom himself.
He likes the fact that The Wahl is wet and dry. For him it's a sanitary thing, he feels like the groomer is cleaner when you use water. It makes a whirring sound when in use and within about 30 seconds a nostril (there's that word again), the job is done. It's that easy, and it's that quick. Although I suppose if you're an older man, you might have more to groom, than a younger man like my husband (he's 33), therefore taking longer. I actually use the groomer too. No, not on myself. My husband can't see the fine hairs growing on the tops of his ears, so he asks me to buzz them off for him. I happily oblige him. The Wahl ran me $10, and we're very happy with the results. Although my husband never thought he's be sticking anything up his nose that has whirring blades. Ahhh, the joys of aging.
Monday January 28, 2002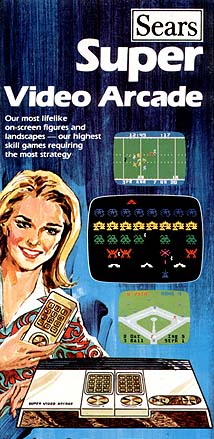 I stole this plimp daddy shit off of some other website. Viva la web.
Super Video Arcade figures look like real people. They have heads plus arms and legs that move; they run, jump, dribble and pass. And the landscapes are in perspective and proportion to the players.


My friends Mondo and Mario had Atari 2600, Intellivison, an Apple II, AND a Texas Instruments TI99/4A home computer thing. They said it was because their dad worked at Sears and he got stuff for a discount. Dad said he wanted his sons to be ready for the future. It was pretty obvious that he was a big nerd and was way into this stuff like us kids. Is it any wonder that I spent every single evening over at their house? They'd leave me with the games in the rec-room while they went upstairs and ate dinner. Mr. Vasaya used to make Mondo (who was the same age as me) quit, take a bath and go to bed at 9, but let me keep playing. Then, he'd have to wake me up off the couch where I'd fallen asleep with the joystick in my hand and tell me to go home. I can still remember the firm distance of his voice and pitiful grimace when he looked at me. Imagine having a little kid hanging out at your house and never wanting to go home. You'd get sick of it after a while but what if you knew the kid's dad was a fuckin alchie?

Sunday January 27, 2002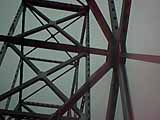 Bridge Girders
:44 seconds
or
download
3.7 megs
Saturday January 26, 2002
Tying the last two posts together: something funny. Eben emailed me to tell me that he showed up in Charles's photo essay in picture 4 (Childish) on the left in the Georgetown Hoyas baseball cap .
I've chosen to republish (for a considerably smaller audience) a recent new release recommendation by Aquarius Records : "Daddy's Curses". As they say, "The disc is exactly as the title implies, a recording of someone's father cussing his brains out." As someone who had a prolifically swearing repairman for a dad, this one is as sweet and sentimental as they get.
"Double fucking bullshit. Mother fucking dog licking god damn bullshit. Nuts. Phooey and nuts...AND phooey, AND nuts."
RealAudio clip: "Excerpt 1"
RealAudio clip: "Excerpt 2"
Buy from them. Buy the Extra Glenns CD. The new assault on your boredom by Mountain Goats' John Darnielle and Nothing Painted Blue's Franklin Bruno.
Also, in the time-honored blog tradition of "linking to crap I like", are some new photos by Charles Peterson at neumu.
I found this set of links because John Darnielle writes reviews for neumu and, along with a few other things, he is the greatest music-related writer on the planet. I dare someone to top him. Witness a recent rant about Radiohead on Last Plane To Jakarta:
I am at sixes and sevens trying to figure out how critic after critic could have listened to this record and not come away disturbed and filled with dark wonder. I am fairly confused as to how it came to pass that at least one critic, hearing "Packt Like Sardines in a Crushd Tin Box," didn't put on a '40s style reporter's hat with a little "press" card sticking out of its band and immediately wire the editor: NEW RADIOHEAD ALBUM STOP THREAT TO GLOBAL EMOTIONAL WELLBEING STOP SONGS LIKE RUBIKS CUBES WITH COLORS SANDED OFF STOP PLEASE SEND RYE WHISKEY NOW STOP.
Wednesday January 23, 2002
Reply by Eben Carlson to my email request:
Tell me something that you did that I can be proud of.

davep
I called up my friend ______ ________, took him out to lunch, told him what the future of commerce looks like and asked him for $80,000 to release The Love Artist based on that model. (This was Monday, I've already asked people for upwards of three million for White Gold. And I've attempted to recruit at least six people to run the shit.)
I got a rejection letter from Chronicle Books. I went to my fourth Pilates class. I went swimming at the Y (that was a few weeks ago). And I sent my mom peanut brittle for her birthday and it got there the day before (I'll share the glory with the United Postal Service for that one). And it was wrapped.
I responded to the question "What do you want to do in NY" with "Get famous and improve Western culture", I got up at 3:48 yesterday, I'm living off of credit cards but still drink Odwalla, I arranged and went to a photo shoot w/Charles to get the cover of my book, I've steeled my despair to not care about the opposite of what it wants to not care about, I've assumed a leadership role with myself, I'm wearing an ironed dress shirt (pink, no less) and good shoes, I e-mailed back my brother the same day I recieved his e-mail, I'm making one phone call I don't want to per day, and I cook almost all of my own food.
I'm proud, tired, lonely, and broke as a motherfucking joke.
Oh--maybe the best one--I went to a party last Saturday that was a talent show and even though I knew everyone else would be doing drunk shit like eating marshmellows with their toes, singing baby songs, and burping the alphabet, I read a poem that I cared about. I also met with a gallery, showed them my drawings, and got three names of other gallerys to approach.
Plus I'm alive--and have made it through one of the most difficult years I've ever had.
Fuck it.
Eben

Tuesday January 22, 2002
This is good news: people are sharing their Internet connections. This aint stealing DSL off your roommate -- people are publishing the location of their wireless internet-connected gateway so that if you're in the area, and you have a wireless card, you can get on the net. It's sweeping the nation. Burning Man (aka Black Rock City) has had a Wireless Access Network called PlayaNet for a couple of years now. If you're curious who's running free WAP's right now check the San Francisco Bay 802.11b Wireless Internet Access Point List
Now on the hackin tip. Remember the movie Wargames? The kid stumbled on a phone number that let him dial into the national war game simulator. It was based on a really common hacking technique. You get a list of all the phone numbers you can (white pages?) and then you program your computer to dial them and see if a there's a modem on the other side. If computer answers on the other side you then try to log into it. Some are open and some aren't. It's never been too interesting to me, I suppose in this version of panning for gold you occasionally come across something interesting but...anyhow. There's a new version of this hack called War Driving. Here's an article about people War Driving in San Francisco and another one.
I don't know about driving around all wired up like a HAM radio geek but you can sniff the air in your local area if you have a wireless card. You can use NetStumbler or AirSnort to determine if someone in your apartment building is waving their big wireless ass in the air. Once you find one, chances are that they took it out of the box, plugged it in and didn't set any security. It will be wide fuckin' open and you can packet sniff the hell out of it.
If you've never packet sniffed, (and you probably haven't), basically what you do is collect every network packet that is sent out. Normally you can only packet sniff on wired ethernet networks (in other words, a LAN -- machines that are connected by ethernet cables and a hub) but these wireless networks are ethernet-based. When you have a computer connected to an ethernet network, the card in your machine only grabs the packets that are intend for it and lets the other ones fall in the bitbucket. But a packet sniffer grabs all of them. It's kind of like if you went down to the little brown mail box on the corner and grabbed a copy of everyone's mail instead of waiting for yours to be delivered. Packets have a destination address, an originating address, some info about what kind of data it is and some data. Heck, just like a letter. That data can be the password that your Outlook client uses to retrieve your email or it can be the email itself. You can tell sniffer software to just show you every time a request from any address to any address on port 110 is made (Outlook's POP authentication) and show you what was in those requests.
Well, who cares about passwords and email anyhow. I know I don't. But it is kind of funny how you get the keys to the whole damn kingdom. This is more invasive than the normal IP-level internet hacking because when you packet sniff, you use an ethernet-level connection. Normally to snoop on this level you'd have to be attached directly (meaning, a cable from your laptop into the hub in their data center) to some ISP's net.
Hey tree house kids! Want the 2002 version of two tin cans and some string? If you have someone special in mind that you want to share the air with, why not build a couple of Yagi Antennas out of old Pringles cans?
Ok, I know two people who are interested so, in case you read Thursday's post and were wondering where the rest of it was, I tacked it on to the bottom of that post. Thanks for reading.
Sunday January 20, 2002
Wait, who am I talking to?
I don't know about you all but I feel completely lame. I think I'm going to take a shower.
Thursday January 17, 2002
Turday I was walking down the street with my chicken and I saw "DON'T' BE AFRAID" tattooed on the sidewalk in front of the old folks home on Guerrero street. Good one. That's the best one, in fact. There's lots of sidewalk stencils in my neighborhood and I have to say that this one is the number one best piece of advice you could give. One that every human being is capable of using, to some extent.
I was having sparkling dinner conversation a week ago with Megan and David and Adam and they were talking about how sad it is that people are so uninformed about how their diet affects or doesn't affect them and how misguided people are about the things they choose to concentrate on. One example was how vegans restrict their diet to the point that it has profound effects on their ability to be part of society and this stress inducing "social irritant" in the end may have much more detrimental effects on their over-all well being than any benefit from the change in diet. People's obsessive focus on minor things (for example, attempts to be "holistic") are a sure sign that they are overinformed and in the dark.
Good stuff, yes, and the main point was that people basically gather random anecdotal "health pointers" from news headlines (don't eat too much salt) (a glass of wine a day is good for you) which may be based in some sort of scientific study but by the time they get it, it might as well be some passed down shit from the middle ages. And the problem is, of course, that the information is uncorrelated and at worst, contradictory. Depending on which newscast you watched, you'll get a different set of mandates. You assimilate them into something you think is a comprehensive view of health but it's not based in real understanding. It's just an umbrella made of doilies and it's about to rain.
Adam's head was about to explode. Yeah, the misinformation was a bad one, but his choice for supreme evil was fear. Why, god, oh why are people so afraid? Why are healthy young members of our society routinely traumatized by fear-mongering parents? Their little souls are crushed by adult obsessiveness and pettiness. And why are those adults afraid? What have rich Americans got to be afraid of? Why is the machinery of the media, measuring out regular doses of late local fear, so effective in sublimating us into trembling puppies pissing on the floor?
But I butted in, in a voice verging on yelling, right there in Valencia Pizza and Pasta, that that's small shit. There's a chunk of knowledge that's easily the most basic and most fundamentally important thing for every human on the planet to know which remains solely in the realm of academia: how the brain works. Namely, that science has started to get a handle on the last bastion of the unknown, the thing that we thought would never be known, and it's only a matter of time before the people know it and start to use it.
There is one dark corner where all our folklore, wives tales, pseudoscience, quackery and intuitions still flourish. Modern psychology and self help have touched the surface but most people still interpret their existence with a very limited vocabulary. All the superstitious beliefs resulting from ignorance, behavior problems, fears of the unknown, trust in magic or chance -- they all prosper because no one understands their own mind. More specifically, people don't understand their emotions. But science is starting to. Feelings....so much more than feelings.....feelings are but the tip....of our icebergs of emotions.
The light of scientific discovery and understanding chased away the bullshit in many fields of understanding (we know why we get sick and it doesn't have anything to do with bodily humors, spirits, magnetism, or any other shit that's been suggested over the years). Hell, just the fact that we know about germs explains sooooo much and renders obsolete multitudes of belief systems we developed to cope with the things that germs were doing to us. If you've ever studied anthropology, or studied cultures that don't have any idea what a germ is, (or anything microscopic, for that matter) you'll see that they sometimes have good ways of coping with hygiene and that their belief system may have developed safeguards that protect them from germs even though they don't imagine in their wildest dreams that they exist. But which culture would you rather be in? Frankly, I want to know about germs. Even if it means that I have to give up going to church, stop listening to the elders, I'm in it for the enlightenment. Some crazy people go so far as to suggest that you should keep this kind of information from others so that it won't corrupt their belief systems and destroy their culture. Whatever.
Neurobiology of emotion. Affective neuroscience. From what I can tell, the discoveries are revolutionary. Like musket-ball-in-your-fucking-face revolutionary. Scientific understanding of the emotions of humans is such a significant and all-relative and a-priori body of knowledge that most people will have to go through a major paradigm shift if they are going to assimilate it. Emotions as psychological "states" are about to die. Most people are just trying to catch up with the popular teachings of psychology but if I was a psychology student, I'd be thinking about another major. In fact, they'll probably be changing the name of the department in a few years.
Cognitive Science, the blending of philosophy, linguistics, psychology, neurology, artificial intelligence and biology, as a discipline has only started to wake up. It's a very young branch of science but it is easily the most important. The people doing Cognitive Science are the Aristotles, the Galileos, the Newtons, and the Einsteins of today.
The reason "DON'T BE AFRAID" is the best piece of advice you can give is that fear is the most important emotion and emotion is the most important brain function and humans are the exclusive source of their own fears.
I've got to go down the street and get something to eat right now. Hopefully when I get back, I'll begin to convey to you what I've learned in the book, "The Emotional Brain: The mysterious Underpinnings of Emotional Life". That's why I started writing. Or at least that's the best guess I have as to my emotional motivations for writing tonight. Cognitive science has been sputtering to a start but Joseph Ledoux and his contemporaries have grabbed it and steered it onto a superhighway of discovery.
Mmmmm. Good falafel. Now, I don't know about that brave soul who stenciled that shit on the sidewalk but I'm not trying to imply that fear is a bad thing -- as in, bad: to-be-avoided. No, we should not fear fear. That would be ridiculous. We are made of fear. It would be like telling the ocean to try not to be so wet. I think that the statement "DON'T BE AFRAID" is effective not because you would follow its advice. Hah! That's a joke. No, I like it because it points directly to the fact that we are the ones that make ourselves afraid. We have no natural predators except for our own imaginations.
This is for Megan and Adam, and to those folks who think that eating at Burger King is equivalent to self mutilation, yes, those well-intentioned folks who are sure that their child will be instantly plucked off the street by one of the thousands of pedophiles roaming the neighborhood if they were to leave them alone for 1 minute.
Never got back on track after that falafel and two Mickey's. Oh well. I'm posting what I got so far.
************************
It doesn't make much sense to mention this but it is a couple days later and I've got one less Mickey's in my blood so I'm gonna try to continue. If you see a number in parenthesis, it's the page number of LeDoux's paperback.
Do we have control over our emotions or do they control us? And how do our emotions shape every other aspect of conscious life -- perceptions, memories, thoughts and dreams?
The basic points that I want to focus on are that emotions go on mostly unnoticed (primarily because they are better off that way) and when they are noticed, they are liable to be misinterpreted. And further, that the awareness of emotions is generally a one-way street and consciousness (our thoughts, desires, plans) has a very limited ability to control or stop them.
This may seem like common sense and anybody will admit to frustration at not being able to overcome an "irrational" fear or forget about a doomed infatuation but the incredible thing is that we all act and talk and assume that we can control our emotions. Society, and its rational fairness and peacefulness is the most glaring example of the way we believe in the primacy of the things our cerebral cortex's come up with.
Emotions are biological functions of the nervous system and their workings can be uncovered in the same way we understand digestion. For years, psychologists have been trying to understand the emotions by asking people about their emotions. Entire systems featuring emotional maps, like the one by Robert Plutchik, have be constructed based on the feedback of people in psychological studies. People are asked, "What emotion were you feeling when that occurred?" And the results are tallied into some sort of cause-and-effect matrix. But this is fundamentally flawed for a number of reasons.
Scientists who study emotion have set things up so that they will not understand emotions until they've understood the mind-body problem, the problem of how consciousness comes out of brains, arguably the most difficult problem there is and ever was. (268)

Figuring out the exact nature of consciousness and the mechanisms by which it emerges out of collection of neurons is truly an important problem." But, it's "not necessary for emotion researchers to wait for the solution before studying how emotions work. (281)
One of the reasons for this is that our emotional systems have been conserved through evolution and the systems that developed to allow us to feed ourselves, find shelter and procreate are still active. They are amazingly similar to the brain functions of other animals. The fact that we developed language and higher cognitive functions has not made them obsolete. They are still active and working in parallel with higher reasoning. When these system function in a conscious brain (like in humans, a possibly higher primates), feelings are the result. But most brains, most of the time, don't even produce feelings. Feelings, when they happen to occur in a conscious being are similar to exhaust coming out the back of car. This is where psychology has had its nose for the last 50 years -- trying to diagnose an engine by sniffing a tailpipe.
The study of emotion focused on where subjective feelings come from rather than on the unconscious process that sometimes do and sometimes do not give rise to those conscious states. (269)
Freud was a notable exception to this, he located our drives in an unconsious and unaccessable place, but he proposed an abstract state of trauma (like where boys are afraid of castration) which drives the various emotional responses. But I'm getting ahead of myself. It all started in 1884:
William James published "What is an Emotion?" in the journal "Mind" and the question of what is an emotion and he answered with another question: Do we run from a bear because we are afraid or are we afraid because we run? The obvious answer, that we run because we are afraid, is wrong. James argued that we are afraid because we run. For the first time, the discussion of emotions was framed as some arousing stimulus that ends with a passionate feeling (a conscious emotional experience -- being afraid). The mental aspect of emotion, the feeling, is a slave to its physiology, not vice versa: we do not tremble because we are afraid or cry because we feel sad; we are afraid because we tremble and sad because we cry.
James suggested that our conscious feelings were recognizable and differentiated because different emotional responses manifest them selves differently in the body. We read our bodies reactions. But in the 20's Walter Cannon, a physiologist who was studying the Autonomic Nervous System, the neural network responsible for arousing the body during an emotional reaction, said that the bodily responses were too vague and there's no way we could get all the various feelings from the simple, blood pressure, heart rate, sweat, adrenaline etc. -- the activations of the Autonomic Nervous System. This became known as Cannon-Bard Theory and they furthered James's thoughts by claiming that emotion is felt first, and then actions follow from cognitive appraisal. In their view, the thalamus and amygdala play a central role; interpreting an emotion-provoking situation and simultaneously sending signals to the ANS.
But this was during the reign of the behaviorists. Their claim was that subjective experiences were currently unmeasurable by science and therefore, good, hard science must ignore them completely. The means by which stimulus's gave rise to conscious feelings was ignored because they feelings were not "legitimate phenomena for scientific investigation." Research continued in the fields of behavioral conditioning (Pavlov's dog) and around 1960, Stanley Schachter and Jerome Singer came up with a theory that's been the way we've proceeded up to this point:
Schachter and Singer started with the assumption that physiological response in emotion -- sweaty palms, rapid heart beat, muscle tension -- inform our brain that a state of heightened arousal exists. However, since these responses are similar in many different emotions they do not identify what kind of aroused state we are in. Schachter and Singer suggested that, on the basis of information about the physical and social context in which we find ourselves, as well as knowledge about what kinds of emotions occur in these particular kinds of situations, we label the aroused state as fear or love or sadness or anger or joy. According to them, this labeling of the aroused state is what gives rise to and accounts for the specificity of felt emotion. In other words, emotional feelings result when we explain emotionally ambiguous bodily states to ourselves on the basis of cognitive interpretations (so-called attributions) about what the external and internal causes of the bodily states might be. (47)
They were so successful that for the next 30 years the study of emotions concentrates almost exclusively on the role of cognition in emotion. Cognitive science was going strong and we were programming artificial intelligence in computers, modeling a cat's visual systems and other information processing tasks of the brain. "Cognitive Science treats mids like computers and has traditionally been more interested in how people and machines solve logical problems or play chess than in why we are sometimes happy and sometimes sad.
The cognitive appraisal of a stimulus started to become the very essence of the emotional system. There was a stimulus - the bear - you appraised its danger value, the judgment you make, whether good or bad triggers a feeling. Boom. The essence of an emotion was altered in order that emotions could be conceived as reasoned thoughts about situations. All the blood and guts had been taken out of emotion and it became just another high-level cognitive process like reasoning or speaking.
But then around 1980, Robert Zajonc argued, quite simply, that preferences (which are simple emotional reactions) could be formed without any conscious registration of the stimuli. This, he said, showed that emotion has primacy over (can exist before) and is independent of (can exist without) cognition.

He proposed the existence of something called the "mere exposure effect". If subjects are exposed to some novel visual patterns (like Chinese ideograms) and then asked to choose whether they prefer the previously exposed or new patterns, they reliably tend to prefer the preexposed ones. Mere exposure to stimuli is enough to create preferences.

The twist to the new experiment was to present stimuli subliminally -- so briefly that the subjects were unable in subsequent tests to accurately state whether or not they had seen the stimulus before. Nevertheless, the mere exposure effect was there. The subjects judged the previously exposed items as preferable over the new (previously unseen) ones, in spite of the fact that they had little ability to consciously identify and distinguish the patterns that they had seen from those that they had not. As Zajonc put it, these results go against common sense and against the widespread assumption in psychology that we must know what something is before we can determine whether we like it or not. Recognition (a prime ingredient in appraisal) is not a precursor to emotion. (53)
Judging from what has been learned by studying fear and the defense mechanism, the current model for how the brain has an emotional experience is that there are multiple systems operating in parallel, mostly unconscious, that process stimuli and memories in a series of feedback loops. It's important to remember that the system for other emotions could be very different and involve different parts of the brain. LeDoux has only studied fear because he believes the defense mechanism is common across all species and what we know as fear is those survival mechanisms at work.
An image of a bear goes in your eyeball and then to your visual thalamus. From there it branches -- part to the amygdala and part to the visual cortex. Studies have shown that the amygdala is capable of some low level evolutionarily programmed responses -- on the order of a general "go/no go". It's been observed that monkeys who have been isolated in laboratory cages for their entire life, will still instantly recognize a natural predator on first sight and react violently. The amygdala has many connections to other parts of the brain, including the hippocampus, as well as direct outputs to the nervous system. It is in charge of activating the adrenal gland and other aspects of the ANS. Simultaneously, the information has been sent to the visual cortex and, along with the hippocampus (the area where long term memories are stored) it is surmised out that we have a bear on our hands and past experience says that it's dangerous. This is merely on the level of disembodied information until is correlated with what the amygdala is putting out. There still is nothing in consciousness that we would identify as a feeling of fear. Only when the bodily feedback is assimilated does the emotion begin to escalate or abate. The hippocampus has the ability, at any point, to short-circuit the amygdala and tell it to stop arousing the body. For example "Oh, that's just a cardboard cutout of a bear.", or "It's a grizzly -- meanest man eater of the bunch."
The outcome of the appraisal, which includes past memories, the strength of the body's reaction, and new incoming sensory information, is re-input into the amygdala and the entire system is either amplified or neutralized. This amplification loop continues until the danger is overcome or the brain *thinks* the danger is over. All of this can happen without ever becoming aware that you are having an emotional reaction. You may be afraid and running but you don't know you're afraid until your legs have already stared moving and there's sweat on your palms.
And what is consciousness, that breeding ground for feelings?
What we know of as the present moment is basically what is in our working memory. Working memory allows us to know that the "here and now" is "here" and is happening "now." This insight underlies the notion, adopted by a number of contemporary cognitive scientists, that consciousness is awareness of what is in working memory. (278)
This functional aspect of the brain is an assimilator of different sensory inputs and integrator with memory. It has been shown that it is capable of holding about 7 distinct items at any point. It functions similar to a data buffer in a computer. Information is pushed out as new information is added. Guess which system determines which sensory input is most important? The emotional system, or more specifically, the amygdala.
Working memory can be thought of as a serial processer (one at a time) while the rest of your brain is working in parallel to process the emotion. The amygdala is working with memory and various processing regions in the cortex -- visual, auditory, linguistic, spacial, etc. In any emotionally charged situation, the amygdala immediately influences the cortex and focuses its attention to what it thought was most important. In addition, it triggers over-all brain arousal and body hormonal and nervous system arousal -- signals in the body and those signals are then returned to the brain (gut feelings).
LeDoux believes that the human brain, in its current state of development is imbalanced. Basically, there are stronger connection going *from* our "automatic" unconscious emotional systems to our cortex than the other way around.
The amygdala has greater influence on the cortex than the cortex has on the amygdala, allowing emotional arousal to dominate and control thinking. Throughout the mammals, pathways from the amygdala to the cortex overshadow the pathways from the cortex to the amygdala. ... At the same time, it is apparent that the cortical connections with the amygdala are far greater in primates than in other mammals. This suggest the possibility that as these connection continue to expand, the cortex might gain more and more control over the amygdala, possibly allowing future humans to be better able to control their emotions. There is some hope that the future evolution of the human brain will take care of this imbalance. (303)
One curious development over the last few hundred thousand years (a blink in biological time) is that we've eliminated all our natural predators and have become our own worst predator. Our ability to think abstractly -- to imagine things and events that aren't happening at that moment -- has freed us from immediate dangers involved in trying to find food, shelter and avoid predation. But we have just replaced those sources of danger with ones of our own imagination. We have an innate (genetic) and unconscious emotional reaction to a number of things but I can guarantee you that elevators aint one of them.
What is so useful about being afraid of heights or elevators or certain foods or means of travel? While there are risks associated with each of these things, the changes of them causing harm are usually relatively small. We have more fears than we need, and it seems that our utterly efficient fear conditioning system, combined with an extremely powerful ability to think about our fears and an inability to control them, is probably at fault.(266)
William James said that nothing marks the ascendancy of man from beast more clearly than the reduction of the conditions under which fear is evoked in humans.
Eibl-Eibesfeldt renowned ethnologis: "Perhaps man is one of the most fearful creatures, since added to the basic fear of predators and hostile con-specifics come intellectually based existential fears."

O. Hobart Mowrer : The capacity to be made uncomfortable by the mere prospect of traumatic experiences, in advance of their actual occurrence (or reoccurrence), and to be motivated thereby to take realistic precautions against them, is unquestionably a tremendously important and useful psychological mechanism, and the fact that the forward-looking, anxiety-arousing propensity of the human mind is more highly developed than it is in lower animals probably accounts for many of man's unique accomplishments. But it also accounts for some of his most conspicuous failures.(233)
Anxiety, phobias, obsessive-compulsive disorder, panic disorder, post-traumatic stress disorder are all fear based psychopathologies. All can be seen as replacements for threats that we are no longer exposed to.
I want to finish up with a large quote on the inaccuracies and untrustworthiness of our feelings and our ability to explain or even express them. (By the way, there are very good reasons why emotional processing goes unnoticed -- for the same reasons that when you want to walk across the room, you don't want to be aware of the instructions from your brain that move your legs each time you take a step.)
Stimuli that are not noticed, or that are noticed but their implication aren't, can unconsciously trigger emotional behavior and visceral responses. In such situations, the stimulus content of working memory will be amplified by the arousal and feedback that result, causing you to attribute the arousal and bodily feelings to the stimuli that are present in working memory. However, because the stimuli in working memory did not trigger the amygdala, the situation will be misdiagnosed. And if there is nothing in particular occupying working memory, you will be in a situation where your feelings are not understood. If emotions are triggered by stimuli that are processed unconsciously, you will not be able to later reflect back on these experiences and explain why they occurred with any degree of accuracy. Contrary to the primary supposition of cognitive appraisal theories, the core of an emotion is not an introspectively accessible conscious representation. Feelings do involve conscious content, but we don't necessarily have conscious access to the processes that produce the content. And even when we do have introspective access, the conscious content is not likely to be what triggered the emotional response in the first place. (299)
Wednesday January 16, 2002
My god people, we've got the Hammers of Misfortune. Is there any reason to fear? Let's fly back for a moment to August twelfth of last year. Ecstasy and Deathmetal and three vids of our beloved Hammers. I'm recycling this post because I just unleashed the three MP3's that they have up on Epitonic.com while I was making an omeltte and when Janis Tanaka howled"chosen one" during "On Wings of Vengance" I brought the pan down crashing on the stove and claimed my destiny.
In case you're wondering what's going on, here's a synopsys of "The Bastard" by Silke Tudor from the SF Weekly:
Performed in three acts, the piece tells the tale of a sapling boy raised in the wilderness. As the boy comes of age, he is visited by a dragon, who tells him how his cruel, plundering father (the land's king) left his illegitimate son for dead. Village prophecy suggests that such a boy will journey to the heart of hell to retrieve an ax that will free the common people from tyranny, on one condition: In exchange for the throne the young king must grant the dragon a single request.

The bastard child hazards the fires of hell and claims the weapon of legend; the moon runs red and the stones drip with blood as he plucks the moist crown from his father's fallen head. For his one demand the dragon requires that a road be hewn from the deepest part of the forest to the gates of the city. The Bastard King submits, and the prophecy is fulfilled: Trolls and wood demons march on the town, slaughtering every man, woman, and child, and the Bastard King learns, at last, of his true lineage. He is a child of the winged demon.
Sunday January 13, 2002
Partial Source for:
http://www.audioreview.com/reviews/Subwoofer/product_15926.shtml
Submitted by: Gaurav Prasad, Audiophile from E Setauket, NY
This product's model year is 2000 and Gaurav has used it 1 to 3 months
Date Reviewed: 10/1/01 3:45:16 PM
Strengths:
Clean Tight Bass, very LOUD, insane amount of BASS, speaker level line inputs, down firing, front port
Weaknesses:
can get BOOMY at loud volumes, but for $195 its HOT, a EVER SO SLIGHT HUM when all components are off and Sub is idle
Similar Products Used:
KSW-12, Aiwa 8"
Price Paid:
$195
Purchased At:
pc richard&son
Review Summary:
First of all I want everyone to know Infinity makes Acoustic Research.....Nuff said.

Well I must say I picked this sub up, first of all its huge looks like a freakin coffee table...But honestly I love electronics..listen to a lot of Bass heavy music (RAP) and I have to say that the sub is AMAZING. I mean yes if I had 400-500$ then I could get something better, but for the price I got a great piece of equipment. I do notice a little bit of a HUM when the sub is on and its not putting out any bass...it says a peak of 480 watts that's a load of horse doodoo...its a coffee table I can sit on it and i'm 200lbs...but its tight, fairly clean bass from music boomy when set very loud, but I'm very happy with my purchase, and trUST ME I LOVE BASS just go look in the trunk of my car....for HT use its actually pretty decent..I dont have the $$$ yet to get a pair of really nice fronts...I have average fronts and rears but pretty decent components...I LOVE THE SUB <--nuff said.

My system:
Yamaha Htr5440 Receiever
Onkyo DVD Player using optical out
SONY CE375 5disc carousel using optical out
gemini turntable
panasonic hifi stereo vcr
Infinity/AR 112 SUB obviously!
bose 100 fronts and rears
audiosource 20band graphic eq

yes i know the 100's suck but i dont have cash yet to buy better speakers.

Value Rating: Overall Rating:
Thursday January 10, 2002
This vidyo is from Burning Man. I never put it up but I intended to match it with the sunrise vidyo. We got one week of this stuff, looking out through the canopy of our silk parachute.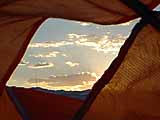 Om Flambe Mothership Sunset
:14 seconds
or
download
460kb
I'm not too sure about whether I want to promote viewing this or not. I suppose we're all adults. It's Hewlett Packard CEO Carly Fiorina trying to explain why the boards and management of HP and Compaq want to merge. What struck me about this video is that it pulls out every cliché and yet still managed to move me. Not move me in the direction she wanted, I'm sure, but it sickened me that she was cashing in on what two entrepreneurs did 60 years ago and trying to use it to get people to go along with some huge corporate merger. As if the two had anything in common!
Having worked in what I thought was a big computer company (3,000) that was headed by a female CEO, I can imagine what kind of shit storm this is stirring up. But I've never worked in one as big (80,000) as HP. This video is scary because I can imagine the hordes of tech workers lapping this shit up. Over and over again at every "All Hands" meeting. "Here's the new boss, gonna give us a pep talk." This is what keeps people going. This is the myth that they are sold. This is the reason that Americans dominate high tech when we really shouldn't. The stories are still powerful. This is the new religion. You think I'm being hyperbolic but don't you think every other big company summons the ghosts of their founders and gets people all fired up? This is the reason I'm writing and posting this link -- because so many people don't even know the myths that are being built into our culture. The myths we're using as fuel to build our culture. This is the one that sucks the best and brightest engineers out of Stanford. They don't believe in anything...except this "inexorable march of technology" shit.
I actually have a soft spot for HP. In case you were wondering who was responsible for all those quirky, loose "dotcom" corporate environments, with their dogs, drinks, daycares and dressdown; it's HP. These casual trends have spread to many other industries. Computer companies had always been big, old, male and stuffy but those two Californian engineers who were named H and P decided that their company was going to be different. HP is the reason Apple is so "cool". Apple copied HP's culture and so did every other new company in the Valley. I enjoyed that shit for 7 years so I'm kinda thankful to H and P. It's still fucked up and political to be in a big company but at least they tried to make it less dehumanizing on the surface.
Wednesday January 9, 2002
I just found an article by a guy named Ethan Watters that interested me. Summing-up a generation of people, a-la Time Magazine, trying to create a demographic with a book or a few articles, or trendspotting is generally repulsive to me. But none-the-less, it seems my existence is being thrown into relief up on the wall, my own mind can not escape it. I don't give a shit if it's on Good Morning America but it's fucking me and my friends up. I'm in my 30's and not married. Apparently I'm a "never-married". I should marry but I DON'T. It's a phenomenon that Ethan is labeling "Urban Tribes". Mr. Watters (although he's apparently engaged) counts himself among this group. And now that screenplays about dotcom life are not selling so well, they're reshaped into the old, "My Generation" sort of drivel that he's going to pack into "URBAN trIBES OF THE NEVER MARRIEDS: Secrets of Community from an Unlikely Source"
Read what he says about Urban Tribes. He's describing life in San Francisco. You're young, smart, got a job and great friends, had a few serious relationships, but you can't...seem...to.....make...one....work.... Your parents were divorced, sure, your married friends are boring, well some of them, but your biological clock is hammering on you night and day and still, you don't get married. And though it all, you know how you're gonna spend the 4th of July: BBQ'ing with those same old friends that you watched the Super Bowl with. From Ethan's perspective (already, it seems, sliding into the world as viewed from marriage) we substitute the closeness and support that marriage provides with a group of friends (that sticks around at least as long as the most hard-core of them can hold out). He implies that as soon as the comfort of your tribe gone, (everyone gets married?) you'll go running into a marriage.
I don't think I have an Urban Tribe. I don't think I'll get married. Does this mean I should get one? Will I be unprotected in the coming disasters of my life? Will I have no one to share the exhilarating triumphs with? Who will change my diapers? Fuck it. I never cared up to now...
I've spotted the tribes, yes they exist and San Francisco is a particularly fertile breeding ground for them, but I keep moving. Maybe it was because the tribes felt like stale marriages already. What's troubling is the fact that Ethan must come up with a meme to counter the societal pressure to get married. It shows that saying "no" to marriage isn't enough. I rant on this subject continually. I'm not even going to discuss the desire to have children. But I should say that I never assumed that I was going to have kids, thinking that I'd probably hate their mother at some point, and they didn't need to be put through that. So marriage seem superfluous and once I forgot about marriage, having kids didn't make much sense.
Every "never-married" has a reason why they are not married. Some say selectively, "I would but I haven't found THE ONE", some say humbly, "I want to make sure I'm ready" some say shamefully, "I missed my shot" but how many truly forget all about marriage and rise above it? I'm talking about some evolved, modern shit. I mean, if you have gone through all the self-help training of the 90's, enjoyed all the wealth and freedom of those same 90's, and you've straightened your existential shit out like no human has in history, then what's with the marriage stuff? You got yourself to the point where you are completely self-sufficient (a point where normally you'd be more than ready for marriage) and now you NEED something else? What's the matter? Life's too easy for you? You bored?
Here's a thought: marriage is not necessary. Like everything else in this culture, it is a lifestyle product, marketed and bought like any of those finished IKEA rooms. You can ignore the seductive music of it or you can not. I believe, the backwards intellectual that I am, that you get what you want, but what you need is only given to you. At its most useful it's a shorthand way of describing your life with another person to society. "Married? Oh ok, I won't ask you out on a date then." Folks, this is not something to ruin your life over! It's not that hard to explain why your finger has no ring on it.
One could say that marriage provides you with a mental reality that focuses your behavior toward the long-term. It allows you to relax and be more forgiving. Instead of "living together" and constantly re-evaluating the relationship on a day-to-day basis, you get a "lease". Instead of constantly judging the other person for worthiness and, it follows, instead of them constantly being in interview mode and putting their best foot forward, you really get to see the other person. Wow!
Fine! But I contend (and I don't have to remind you that I've never been married) that giving yourself the "lease" isn't something that you should sit and yearn for when you are single. This supposedly perfect state of affairs has people wallowing in loneliness. It is something that may be bestowed on an already working relationship. How can you go shopping for that? You don't. And I don't know if it's a good remedy the supposed purgatory of "living together" either. The only people who get themselves in that state of constant judgmental re-evaluation are people who are dying to get married for whatever reason and could give a fuck if they have a perfectly fine, short term relationship on their hands.
Everything thing that I've just said is subject to revision, of course.
Don't know why I got this but a guy named Ryan Junell sent me an email announcing a perfomance of his films. I went to his website and liked what I saw. "Indian Kids", a subject I'm fairly familiar with, and "Voice 'O Reason", which features music by Lesser and some neat visual samples of "Lolita"
Sunday January 6, 2002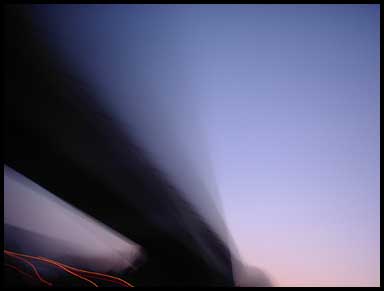 So far, I've been in LA two days and this is the best picture I have. It's somewhere in the San Joaquin Valley.
Friday January 4, 2002
When I pulled out from the pump it sounded like I ran over something so I looked back and the hose from the gas pump was lying on the ground. I'd left it stuck in my tank and ripped it clean off the pump. My first thought was, "Wow, I drove of with it in my car, just like in the movies." Then I thought, "I wonder if anybody saw that."
I wasn't going to just take off like a chump so I got out, inspected the damage, (and found out that there's some sort of quick-release mechanism so you don't ruin the nozzle when you do what I did) and went inside to tell the clerk about it. It was one of those vast I-5 filling stations with a McDonalds in it where the clerk never even looks outside. I says, "I pulled out with the nozzle stuck in my tank and ripped the hose off." He looks down, sighs, and says, "License please."
I'm kind of shocked. What does he mean talking to me like he's a cop. I asked what he needed it for and he said, "In case you broke it they need to charge you for the damage." And I'm like, what the hell? I came in here out of the generosity of my heart. You want to charge me? You didn't even catch me! I could've just sped off into the night. Here I am, bothering you, distracting you from refilling the cigarettes, so I can *let you know* about a little accident in you station and you want to take down my license?
I went back into the car and got it out and he copied it down.
It's 1:19 am and I'm about to get on the road. I'm just about packed. Thought I'd be done sooner but I decided to backup my hard drive just in case something happens. I'm bringing just about every expensive piece of equipment I own with me so something better damn well happen.
I'm going to El Lay. Just decided tonight when I woke up. I was thinking the first thoughts I usually think as I wander out of sleep: "What day is it and where'd I park my car?" I realized it was Thursday and that I need to move it before tomorrow so I thought, since I have to re-park my car anyhow, I might as well drive to LA. That's the way I tend to think about matters of parking in my neighborhood. I don't consider driving to LA that much of a chore and I'd rather do it than re-park my car.
Also, I had remember that Ben told me to meet him and his marching band in LA. He said they have lots of groupies and I can be one of them.
I passed the time before leaving by watching the film "Waking Life" and I highly recommend it. It's about dreams and reality and this animated kid (young Mitch from "Dazed and Confused") walks around and listens to people philosophize on life and dreams. There are some very beautiful parts. Like when the two guys that are talking about the "holy moment" suddenly turn into cloud people. Or when that girl picks him up and tells him about her soap opera. Talk about a dream girl... and then there's Timothy 'Speed' Levitch playing himself, of course, the man on bridge who goes salsa dancing with his confusion. You want to press the pause button on that guy cause he's laying in on thick. If you've seen the movie "The Cruise" you'll have an idea of the flavor of the ramblings.
So here I go on a cruise.