Monday November 5, 2001
I spent all night trying to get my laptop LCD screen to look decent. That means the Adobe Gamma control panel for 7 hours. I'm shocked. Of course, this is nothing to write home about. I just feel like I need to say it: I'm all alone out here in tweakland. 7 hours.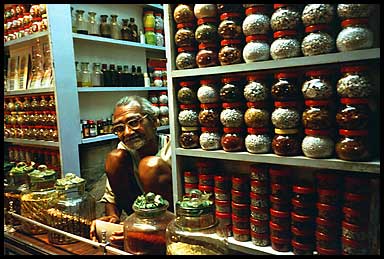 Varanasi. I think this guy sells stuff to make paan. Or, he could be a regular candy store.
voyeurs of the world, give something back!

Nearby Entries
<prev<
----
Home
----
>next>
November 2001

| Sun | Mon | Tue | Wed | Thu | Fri | Sat |
| --- | --- | --- | --- | --- | --- | --- |
| | | | | 1 | 2 | 3 |
| 4 | 5 | 6 | 7 | 8 | 9 | 10 |
| 11 | 12 | 13 | 14 | 15 | 16 | 17 |
| 18 | 19 | 20 | 21 | 22 | 23 | 24 |
| 25 | 26 | 27 | 28 | 29 | 30 | |
Search
Archives
Recent Entries
Send This Entry