Monday June 25, 2001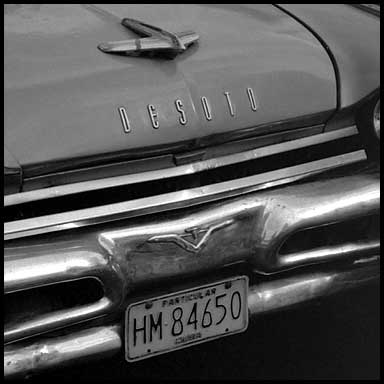 The taxi stand in front of the Capitolio Nacional, Havana. I shot this photo and had a nice conversation with a guy during the half an hour I spent waiting for Squash to get out of the museum. They get a lot of tourists there and I meet a lot of people who talk to tourists all day. (It's common to meet an 8 year old who speaks 6 languages) This guy was different. This guy was pretty fearless, or else he had paid off the cops because when they came near he continued talking to me. I asked him why he didn't fear them and he said, "They know me, I am here every day. They've checked my papers and things many times but never put me in jail. Sometimes interrogation takes a long time but it's worth it." Talking to a tourist is against the law and aside from it being a horrible law, I actually appreciated how a tout would suddenly stop bugging me peel off and start walking the other direction. Policia. Mira. Vale, policia muy fuerte. I had conversation with about 20 people in the street that day. I can't express how weird that is. 20 people. Not just "Hello, where from?" but actual meaningful conversations where I learned something. It's really cool to walk about with a camera in a place like that.
voyeurs of the world, give something back!

Nearby Entries
<prev<
----
Home
----
>next>
Search
Archives
Recent Entries
Send This Entry