Saturday June 16, 2001
Today turned out to be pretty fun. I just hung out with David but I got a lot of things done and I had enough face time with him to reassure me about the theater. He came over to help me carry my old couch out onto the sidewalk. I talked to him about the modifications I would like made to the Primco couch and he seemed agreeable. I showed him my projector and we're gonna watch a movie tomorrow night at the store. We checked out the huge screen that the guys down the street at the shoe store found in the basement. It was covered with mildew but we're gonna clean it and then we'll have a 30x40 screen. A whopper. I have to go to a party at Mica's house in Berkeley now. I'm excited because I haven't been to a party since London.
If you were actually reading this realtime, you'd probably be wondering where the pictures are. I'm gonna work on that tomorrow and add about 3 day's worth. I just didn't have the gumption to turn on my scanner. If you're reading this sometime in the future, you're seeing the photos before me.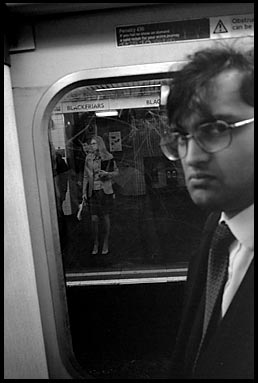 Blackfriars Tube
voyeurs of the world, give something back!

Nearby Entries
<prev<
----
Home
----
>next>
Search
Archives
Recent Entries
Send This Entry