The Puff Guide
I tried to write this when I was in the cycle rickshaw but even though it was smooth, it was bumpier than it seemed. Right now I'm trying to make sure they mix my gimlet properly. I like my gimlet with vodka, as you may know, and sometimes when I customize my gimlet, it catches a bartender (from Siliguri, in the state of West Bengal, India) off guard. I love the dichotomy of taking a cycle rickshaw to have a gimlet — almost more than a vodka gimlet.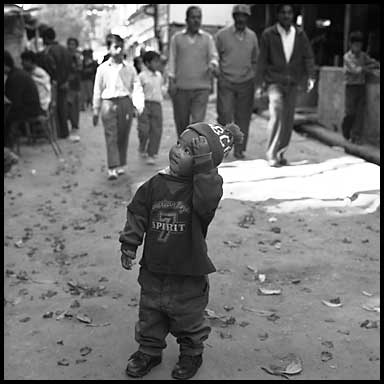 Anyhow, the only reason I'm writing is that I thought I'd do a little travel writing. You know, the "what where how" stuff. The day train from Calcutta to Siliguri was grueling. I would never consider upgrading from my standard 2nd class, 3-tier sleeper but this trip made me doubt its value. It was hotter than hell this afternoon as we clack-clacked through the rice fields and I was thinking, "Why aren't I relaxing in the AC car?" Normally I wouldn't, 'cause it kinda sucks not being able to open the windows and it tends to be less social, but today I would have sacrificed the views for a few hours where I didn't just sit and sweat. Plus, the folks in my section were low-class boors. Advice: always take overnight trains through hot regions.
Oh, my gimlet just arrived and they nailed it. Score another tourism point for this sleepy little two-street town. At the train station the cycle rick guys (about 13 standing in a semi-circle around me) were trying to convince me that the cycle-rickshaw was the way to get from the station into downtown 7kms away. I had visions of Varanasi, where you can get suck with an uphill cobblestone street, where you're being outpaced by the foot traffic and you have to watch the poor driver agonizing to try to get the non-geared antique bike up the hill. When they get off and push you're like, "OK, enough with the charade". But the rick drivers here are nice. I don't want to go as far as to say a society shall be judged by the pushiness of its rickshaw drivers but you get the idea...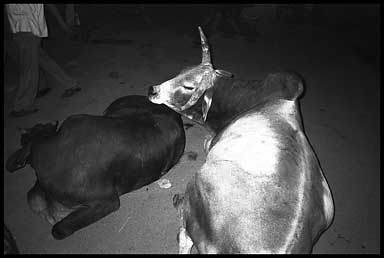 I finally decided it wouldn't be so bad to spend the 20 rupees and sit for 20 minutes. It was such a nice trip: cool air and quiet night on a smooth downhill. People stirring silently, and as most of the traffic was cycle-based, relatively low pollution. Wow, what a nice change from Calcutta. I feel like I'm on vacation finally, and this is only a junction town on my way to Darjeeling. I had a bunch of conversations with people on bikes and in other ricks who sort of sidle up next to you and make small talk. Conversations, when both parties are rolling on a bike, as any bike geek will tell you, are imbued with a peace and love vibe that is hard to find anywhere else.
So I rick to my hotel, the Hotel Mount View, which is right across from the bus stop and proceed to feast on delights of hospitality I've yet to encounter, even after paying 3 times as much. I splurge for the hot water and color TV at 300 rupees and in no time the bell boy has me setup with a cold beer, soap, 2 towels and I've got the NCAA Basketball tournament on the TV. Within 1/2 hour I'm showered, buzzed and happy.
Ok this hotel review stuff is boring in the extreme, but travel consists of looking around at stuff and being aware of how comfortable or uncomfortable you may be at the moment. It just happens that my comfort and viewing pleasure happen to be one in the same here in Siliguri. That's either a glowing review of the hospitality or a damnation of the scenery.