Man Surrounded by Tea: "Let's See some Magic Folks!"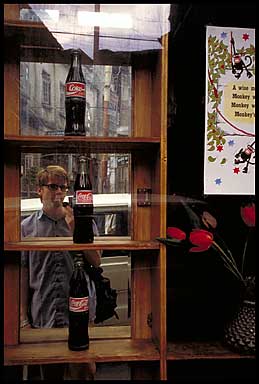 I don't think the bugs are gonna fall on me tonight. I have a mosquito coil but no mosquitoes. Or, that's what the Nepali boy told me when I said I had mosquitoes. Whatever they are, they fly into the bare bulb above my head, are stunned, singed and fall onto my chest. It's the season where incandescent bulbs are like bug showerheads. For example, I was trying to browse the books in the Mughal Sarai train station outside of Varanasi last week but bugs were raining on my neck and falling down the back of my shirt at the rate of about 1 per second. So maybe they're not mosquitoes. It's barely above freezing outside. I didn't get bit last night. But they make that same ferocious buzzing attack on my ears. When they fall on my chest they sort of look like mosquitoes. In the time it took me to write that, 7 have fallen on the baby-blue flannel sheet. My mosquito coil sends a twist of gray smoke up but it only irritates the larger bugs and makes them more recklessly aggressive.
It should be no surprise that I'm talking about a minor insect annoyance when I could be writing shit like: "Oh Darjeeling is such a charming little town, perched high in the Himalayan foothills. It's cool nights made warm by the fine woolen handcrafts on sale in the street markets, it's bustling days made warm by a sun filtered through foggy cloud banks that sweep up the verdant hillsides."
There's a reason to avoid it (as you can probably tell). I have a narrative in mind. I will only describe this place if it becomes necessary. Something has to happen for there to be a narrative. Has something happened? No... But yes! Nothing has happened. I've sat and watched. I've shopped and read. I've eaten and photographed. I've rented a room. You see, absolutely nothing.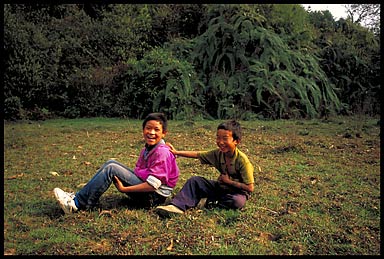 I spent 471 rupees on STD calls today. I spend about 500 every other day. I call the Mystery Woman. That is the only thing that happens to me that is worth describing but I don't know what to say. That's why I write about the bugs. My life is moving ahead in 500 rupee increments. Funny, I spent about that much a day for a room in Bombay. I moved ahead 500 at a time there also. I was addicted to the sweep of 12 hour periods, when I, and the people and places I'd left behind in the US, swapped day for night. I knew when people woke up and went to work, checked their email, were off for the weekend, and I sat on the other side of the earth trying to communicate.
Now I wait until some significant event has happened to warrant a call to the MW. It could be that I've changed hotels or cities or that I've changed my plans for travel to Bali. There's always something to say but I usually forget it when I hear her voice. A couple of hundred into today's call I realized that I wanted her to find a book that I found here in Darjeeling called, "Days and Nights in Calcutta". That's the practical reason for my ringing her cell phone, but then, yes, I hear the surprise and delight in her voice when she hears it's me. I get it every time.
Do you know the difference in a person's voice when they're talking to the person they think about all day? There is an air of the grand performance. The titanic thespian. But not fakery, just the gusto of a stage actor who loves the lines they're reciting and is hoping to reach the audience with them. I think that must be the way I sound. The MW is never so rehearsed sounding. I sputter out platitudes that are like Hallmark cards translated into Japanese and then read over a noisy lunch table to some old fart who barely speaks English or Japanese, who translates them back into English to be written on the paper wrapper of a pair of wooden chopsticks.
The book I want her to check out is by this couple - a Canadian man and a Bengali Brahmin woman, educated in the west. It's about a year in India, first half is his take on things, the second is hers. The MW writes too. But we're not married. The guy writes about India like I do and he writes about trying to fit into her huge Indian family.
I've cancelled a 2 week trip to Bali to go back to sweltering Bombay to be with the Mystery Woman. It's time to meet her parents. It's time to tell the maid about me. The MW is more concerned about the latter. I'm more concerned about the former. I have no parents. Relationships between young people (which we're not) in India are agreements made between parents. Will it be a little-league game where one team has no coach? Will it be a horse race where one horse has no rider? Is it right to see it as a competition? Of course not, and the MW reassures me that her parents are amazingly open and nice people. But I have questions that she can't answer. It's what I lay in bed and think about instead of getting up and going down to the tourist office to book a trek through the Himalayas. It's what I sit in the nicest restaurant in town and wonder instead of hanging out in the Tibetan monastery and watching the monks smack their palms together and debate. If I was a travel writer I'd either be fired or have to quit for my lack of discipline and interest in the sights around me. At least I'm filling up the pages in this journal.
The narrative I have in mind is all interior monologue. It's actionless brooding. It is nothing to write home about. Or is it? I honestly don't know. Because I can't find the part in me that is moving ahead (coming to that all-important narrative conflict or crisis). Uh oh, as I re-read that last sentence I realized that's not the truth. I have written myself into a corner. I know what I'm moving toward. It's a flight back to Bombay to move in with the MW. Crisis is defined in these cases as a turning point you can't go back from. Things that change all subsequent events.