Friday June 14, 2002
I'm working on a larger one, but here's the first stuff from the Coachwhips show at 16th and Mission BART plaza. They're probably on stage right now at the Hemlock. I decided to stay home and work on videos.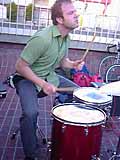 Ratta Tat Tat
:5 seconds
or
download
415 kb
voyeurs of the world, give something back!

Nearby Entries
<prev<
----
Home
----
>next>
June 2002

| Sun | Mon | Tue | Wed | Thu | Fri | Sat |
| --- | --- | --- | --- | --- | --- | --- |
| | | | | | | 1 |
| 2 | 3 | 4 | 5 | 6 | 7 | 8 |
| 9 | 10 | 11 | 12 | 13 | 14 | 15 |
| 16 | 17 | 18 | 19 | 20 | 21 | 22 |
| 23 | 24 | 25 | 26 | 27 | 28 | 29 |
| 30 | | | | | | |
Search
Archives
Recent Entries
Send This Entry