Saturday June 15, 2002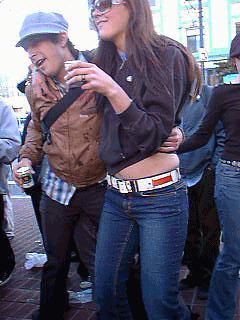 Oh boy...and girl. These kids will not stop fuckin dancing! Must be the Coachwhips going "Baa Baa Bom Bom Baamp...Chucka Chucka Chucka" over and over. I'm told the feller with the gold fronts is Keeegan. Anyhow. this was the fashion in which they were rocking at the BART plaza on Friday. Sorry you missed it.

So many people try to type natural language queries into Google's search box. I see it in the DSR's on my site all the time. New and cool and something of a remedy for this situation in internet land is Google Answers. A paid information researching system. Some people use Google Answers to ask questions about Google but it appears that the folks at Google are trying to discourage that sort of stuff. I thought to myself, "Hmm, this is a place where there are a lot of people hanging out who know how to use Google really well and I'd like to know what they know." Maybe I need to pay for an answer because didn't find anything from browsing around. But it is entertaining. Especially the Miscellaneous section: Where are all the 420 mile markers in the continental US?
I'm looking for anybody who has some reasonable skills to join me for some fun on the table at Mission Playground (19th and Valencia) for ping pong. I am ready any time during open hours. It hurts me to see that really bitchin' expensive table go unused. They close at 10. There's also foosball. There are even lighted hoops with nets until 10. This is a standing invitation to anyone who reads this. Even if you're marginally interested, I think you'll find my love for the game infectious. me.
Friday June 14, 2002
I'm working on a larger one, but here's the first stuff from the Coachwhips show at 16th and Mission BART plaza. They're probably on stage right now at the Hemlock. I decided to stay home and work on videos.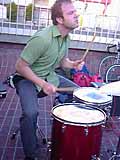 Ratta Tat Tat
:5 seconds
or
download
415 kb
I was going through my contacts tonight, sending a whole bunch of people an email about the squidsheet and I came across the contact "MOM". I think I left it in there for sentimental reasons before, but this time I took one last look at the old girl's email address (she barely broke it in, to be truthful) and the phone number at her condo and deleted her. I was about to go about my work when I thought to myself, "That's fucked up when you have to delete your own mother out of your contacts list." It's so sad when people die. Everything that was associated with them crumbles. Just take a look around the room and think of all the things you've collected or made that are important to you and when you die, most of them won't mean shit to anyone and they'll just chuck 'em out. That should tell you that your attention is what's important.
"Life is long, and it's tremendous. And we're glad, that you're here with us. And since we know, and end will come, it makes our livin fun."
Man, seems like I still think about her every day. It's like, she mourned her baby that died way back in 1946 and she told me she thought about her every day and now it's like I have that also.
Monday June 10, 2002
On my trip to the bullfights last Monday I was discussing cameras with Carlos (who posted his movies "Portuguese Bullfight" is the one to watch: http://171.64.28.102/~carlos/) and he said that they've got some super tiny little video cameras now and I said, not as good and small as my Sanyo VPC-SX550 and he said I should check it out. Well, that's what I did yesterday. I went looking on the net as I was too hung over to even stand up. I found something by Panasonic and then got really excited. It seemed that my prayers had been answered. I want a little vidcam that also plays MP3's. I don't expect it to be a phone. Vidcam and MP3 player should go together. They're both audio and need to have some sort of removable storage. Kodak was the first one to try to do this with their MC3 but that one was too crappy. It's not that I don't like toy cameras. I love my pixelvision. It just sucked. Anyhow, I waited because I'm not so different than those geeks designing these things and they'll figure it out.
I found out that Sony's got some propreitary new mini tape format but that camera is still a pound. I need 5 ounces. Anything more and it messes up the line of my clothes! So, yesterday I found the Panasonic SV-AV10 (I'm glad they started with the number 10 because they're gonna need some room to grow) and I was about to buy it when I read what people said on CNET and decided I'd wait for different products. It really is perfect but the video is just too underpowered. It does about 350kb a second and that's half of what my Sanyo does. At 320x240 it limps along at about 10fps and that's just too jerky. Well, I'd possibly put up with that and the "artiness" it would enforce, but then I found out that because it's SD memory-based, you can't directly read and write the media in your computer. You have to go through the Real Jukebox shit they give you because of its "digital rights management". Well fuck that. I'd have to copy everything over a USB cable. No way. SD is cool and about as cheap as Flash but unless they let me have file system access to it or put it on a firewire connection I'll sick with my Sanyo. Oh, I also noticed that Xolox is back in business and they have 40x CDRs for a hundred bucks now so you can burn a CD in about 2 minutes. Damn. I guess I'm gonna have to get with it and start sucking music off the net again. Last night I found Lucinda Williams doing "Positively 4th Street" and it kills.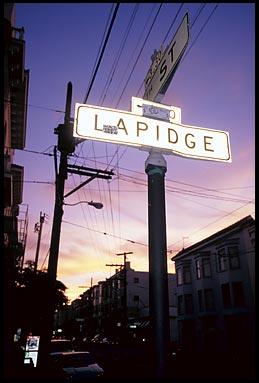 More hometown pride. It's the street. Lapidge. My farorite thing about this sign (and one you can't really make out in this photo) is that there's a sticker on it that says "You Must Worship Me". I'm gonna go put a sticker of this photo of the sign on the sign today.

Sunday June 9, 2002
Pill poppers, listen up!
Never take a pill that someone gives you without looking it up on the internet first.
http://www.rxlist.com/interact.htm#imprint
There is always an imprint code on prescription medicine. Sometimes it can be tough to look it up but if you have a general idea of what type of drug it is and the imprint, you can usually find the exact drug name and dosage. And, after you find it, always lookup the dosage indication. Don't kill yourself.
Punching up some of the stuff in my stash I found:
Imprint Code: M/2
Drug/Strength: Hydromorphone Hydrochloride 2mg - Dilaudid
Imprint Code: 5013V
Drug/Strength: Phenobarbital 64.8mg
Imprint Code: 51 / RP
Drug/Strength: Dextroamphelamine Sulfate 5mg - Dexadrine
Imprint Code: A5
Drug/Strength: Oxycodone HCl 5mg