Sunday September 23, 2001
This is a video of Psyche's Windows by Stephen Chaparro. I was sooo goddamn high on ecstasy when I shot this. I think we're listening to the Rachmaninoff "Vespers" chorale. Right in mid-vid, the music swells just has our raver-boy faces into the wind and the glowing blue sheets billow. You can kill me now. This sculpture was featured in two of the finest moments I had at Burning Man. Here's a photo of the outside.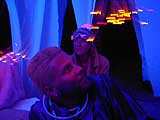 Psyche's Windows
:30 seconds
or
download
1.8 megs
voyeurs of the world, give something back!

Nearby Entries
<prev<
----
Home
----
>next>
Search
Archives
Recent Entries
Send This Entry