Thursday September 13, 2001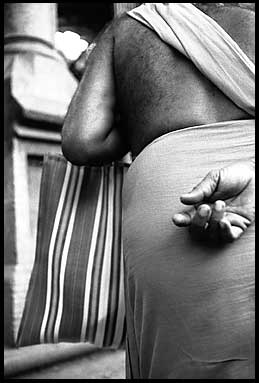 Don't know where this is but I think it's in front of Dave Farsan near Babulnath Chowk. Bombay.
I just watched Gandhi for the first time since 1985. It was very moving and relevant. Gandhi was killed by a Hindu extremist who thought he was giving too much away to the Muslims during the shaping of independent India.
Indians today know almost nothing of Gandhi nor do they care. They learn about his political role and his philosophy is brushed aside as naiveté or extremism. While I was in India, I was very curious about this mass amnesia of the ideas of the father of their country. I lived on his street for a while. It's something similar to our society still playing the music of the late sixties on the radio all the time but the ideas that went along with it are derided old "hippy daydreams" -- naked, dirty failures of the "Age of Aquarius". They will say, "Gandhi is ours" but he is not theirs any more. I will not let them have him. They just want him, so when it's convenient, they can flash a cardboard cut-out of him to the world and say, "this is our great father, our ancient culture deserves your respect". This is the most disingenuous crap I can imagine. I could go on forever about all the conflicting and countercultural ideas that got Gandhi killed but I won't.

voyeurs of the world, give something back!

Nearby Entries
<prev<
----
Home
----
>next>
Search
Archives
Recent Entries
Send This Entry