Tuesday September 4, 2001
Saw my friend Dan Coffeen today. His nose stuck out and the shade from his baseball cap moved like bat-ray wings over it. When he contemplated something, the shade wrapped wings around it. But when he said something, the wings slid back to expose it.
We don't have jobs. I told him that he should boycott the liquor store next to Java Supreme and he thought that sounded like a fine idea. He told me that he'd abdicated his musical direction to the good folks at Aquarius Records years ago and I agreed that was a fine idea. I said that he was about to discover the best music that he had never heard and that I was going to tell him about it. He said he'd send a filmmaker my way.
I learned "Stupid Preoccupations" by Vic Chesnutt today and I also a devised a rigorous frequency analysis (after hours of mind-numbing specialized audio software piracy) of the internal noise generated by my vidcam in hopes that I can create Parametric EQ settings to cancel out the noise. I was fairly successful, finding really obnoxious screeching tones at 1350, 1780, 2081, and 2693 Hz. This technical shit allows me to bring you the sound of morning wind ruffling through the silk of a parachute.
However, today, I'm going to post a movie that has no sound. I think it's better that way.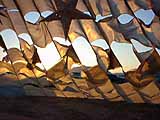 Sunrise in the Parachute
:03 seconds
or
download
288 kb
voyeurs of the world, give something back!

Nearby Entries
<prev<
----
Home
----
>next>
Search
Archives
Recent Entries
Send This Entry