Thursday January 10, 2002
This vidyo is from Burning Man. I never put it up but I intended to match it with the sunrise vidyo. We got one week of this stuff, looking out through the canopy of our silk parachute.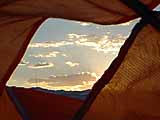 Om Flambe Mothership Sunset
:14 seconds
or
download
460kb
voyeurs of the world, give something back!

Nearby Entries
<prev<
----
Home
----
>next>
Search
Archives
Recent Entries
Send This Entry