Wednesday October 31, 2001
This is the Om Flambe Mothership in action. I've said it before, this was the most beautiful shelter at Burning Man. I'm going to do some other nice videos where you can see the canopy better. This one's just for arty effect.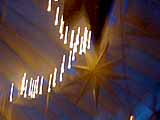 The Mothership in the Evening
:2 seconds
or
download
260 kb
voyeurs of the world, give something back!

Nearby Entries
<prev<
----
Home
----
>next>
October 2001

| Sun | Mon | Tue | Wed | Thu | Fri | Sat |
| --- | --- | --- | --- | --- | --- | --- |
| | 1 | 2 | 3 | 4 | 5 | 6 |
| 7 | 8 | 9 | 10 | 11 | 12 | 13 |
| 14 | 15 | 16 | 17 | 18 | 19 | 20 |
| 21 | 22 | 23 | 24 | 25 | 26 | 27 |
| 28 | 29 | 30 | 31 | | | |
Search
Archives
Recent Entries
Send This Entry