Tuesday September 30, 2003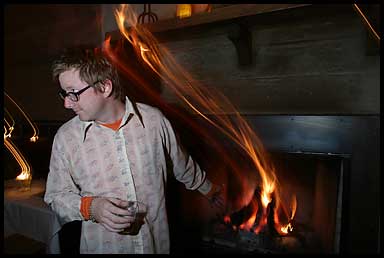 I put up with Lyndsey shootin' the hell out of me at the Planet opening last night and today she delivers. Big Time. I don't really like having someone take a picture of me, but this one justifies all that squirmy awkward feeling.
voyeurs of the world, give something back!

Nearby Entries
<prev<
----
Home
----
>next>
September 2003

| Sun | Mon | Tue | Wed | Thu | Fri | Sat |
| --- | --- | --- | --- | --- | --- | --- |
| | 1 | 2 | 3 | 4 | 5 | 6 |
| 7 | 8 | 9 | 10 | 11 | 12 | 13 |
| 14 | 15 | 16 | 17 | 18 | 19 | 20 |
| 21 | 22 | 23 | 24 | 25 | 26 | 27 |
| 28 | 29 | 30 | | | | |
Search
Archives
Recent Entries
Send This Entry