Tuesday November 19, 2002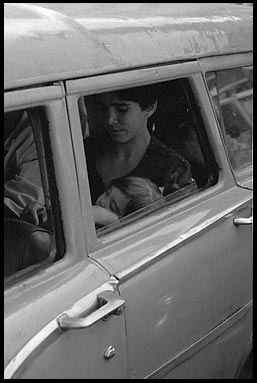 Still working out the capablilites of my new scanner but I think I'm getting better mid-tones in my black and white negs so I'm gonna start re-scanning a lot of those. Here's a photo from Havana. I actually have another picture of the front of this car she's sitting in. I think it's an Edsel stationwagon.

voyeurs of the world, give something back!

Nearby Entries
<prev<
----
Home
----
>next>
November 2002

| Sun | Mon | Tue | Wed | Thu | Fri | Sat |
| --- | --- | --- | --- | --- | --- | --- |
| | | | | | 1 | 2 |
| 3 | 4 | 5 | 6 | 7 | 8 | 9 |
| 10 | 11 | 12 | 13 | 14 | 15 | 16 |
| 17 | 18 | 19 | 20 | 21 | 22 | 23 |
| 24 | 25 | 26 | 27 | 28 | 29 | 30 |
Search
Archives
Recent Entries
Send This Entry