Wednesday December 12, 2001
As mentioned in this post, I bought this keychain because the guy was going to cry, fiending like a junky and I wanted to get the fuck outta there. This is my friend John demonstrating its functionality. I just want to mention that John is a suprisingly well adjusted adult and a great human being.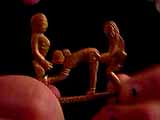 Khajuraho Keys
:30 seconds
or
download
880kb
voyeurs of the world, give something back!

Nearby Entries
<prev<
----
Home
----
>next>
December 2001

| Sun | Mon | Tue | Wed | Thu | Fri | Sat |
| --- | --- | --- | --- | --- | --- | --- |
| | | | | | | 1 |
| 2 | 3 | 4 | 5 | 6 | 7 | 8 |
| 9 | 10 | 11 | 12 | 13 | 14 | 15 |
| 16 | 17 | 18 | 19 | 20 | 21 | 22 |
| 23 | 24 | 25 | 26 | 27 | 28 | 29 |
| 30 | 31 | | | | | |
Search
Archives
Recent Entries
Send This Entry