To Thailand, Almost, Finally
I'm sitting in the coffee shop of the Leela Hotel. A 5-star jobbie all the travelers say is a good crash pad while you're waiting for your inexplicably scheduled flight to leave the Bombay Airport. Doesn't seem so to me. I mean, there is a disco, pool room, nice bathrooms with TP, a restaurant, and a business center with e-mail, but not really any place to sit and not look conspicuous even if you're neatly dressed and white. That's what I'd really like. Seating. Peaceful, invisible, seating. A really nice guy on the plane I met (yes another businessman) took me here. His driver was waiting to pick us up.Â
So I did some typing and went to the disco, I thought I could just sneak in. The woman at the top of the stairs looked at my bag and asked if I was staying at the hotel. I said no, just passing time (right here I'm thinking everything is going to crash in on me) and then her manager came up and said, why don't you just leave you bag here behind the counter. I graciously agreed and entered the disco only to find they stopped selling drinks. I watch a rather pathetic display of upscale Bombay bold and beautiful mix with the hotel's old, white and stiff and soon, Quintessence came on.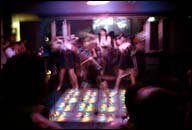 Quintessence is really a good name for this band which represented all I've come to know and love about live entertainment outside of my tiny little hip corner of the world. An Asian group with a full band, 3 dancers and leading man. Flash dancing and flamboyant covers are the stock and trade of this band. Another cheese grinder. They started with "Another Brick in the Wall", singer proclaiming "we don't need no education", dancers out in front, gyrating and writhing and the band, bland and robotic, long straight bangs hanging down over their faces. Then the dancers moved back to back up Michael, the lead singer, who launched into a Queen medley, "just gotta get right outta here" I looked around, a smile cracking across my face. Looking for others enjoying it the same way I was, but everybody was hard-rockin right along with Quintessence.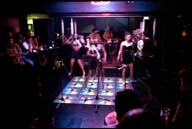 (I just walked over and met them, by the way. They're eating here in the coffee shop. The lead singer stood up promptly on my arrival at their table and acted like I was the celebrity.) I assure you, this guy Michael is a star. But after working the working stiffs and partiers into a lather, they settle down for omelets just like me. Whew.
So after I could take the arctic A/C and Quintessence no more, I strode over to the pool room and watched Bombay's hottest new trend, pool. I even played a game. Played and lost to two local sharks and then readily left the stale atmosphere for a walk around the lobby and this chair, right here, in the restaurant. Buses every 1/2 hour to the terminal. Mine is at 3:30. Later.
(ps. They put a heap of french fries on top of my otherwise pedestrian omlette)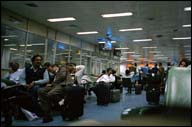 Well, I'm in Thailand. Had some Thai food. Man, It's really nice here. By the way, I have to amend what I said about the international Bombay airport. It's actually OK for departures. Arrivals are the sketchy part. So there's stuff here that's not made of concrete, unlike India. (Did I mention that concrete company advertising must account for over half of the sign ads in any town in India?)
I'm on my way on an A/C bus to Khoasan Road. With all the other backpackers. Once again, in traveler circles I guess. My plan is to stay a day or 2 in Bangkok and go to Kho Samet. It's only 4 hours by bus! The bus I'm on is now taking 40 minutes to Khosan Road and I can write on it. Time to pay. Bye.