My Friend Noah
Today's supposed to be 36 hours but yesterday never ended.
Once again I'm actually able to deal and to write. Although I think I'm a little dopamine deficient and possibly synapsoidally disabled after last night. I got back to Bangkok from the beach and (posing as the expert to my fellow backpackers) guessed the hour-long taxi ride at 120 Bhat and got them to share it. I got my extra stuff out of my locker on Khosan road and went to my room at the Pra Suri Guest House, a very nice guesthouse off of Khaosan road where schoolkids hang out after school. That is where Noah is staying and after a while I was able to locate him and fill him in on what happened in the last couple of days. Noah was comforting me in the distress I felt over Chen, the Thai girl, and letting me know that she'll be telling the same thing to some other western guy she picked up in that bar before the end of the week. I met his friend Laura, another Canadian, and then went down-stairs to have a nap.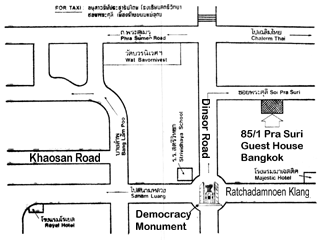 (The sunburn in the middle of my back is itching right now. I'm sitting once again in the marvelously recuperative Hong Kong airport.)
Boy my room was big -- 3 beds. So after my nap I go over to find Noah and Laura hanging out in Skinny's room -- some guy living in Bangkok and writing. I didn't ask what. There are tons of philosophy books, a laptop, a few beer bottles, a CD player and an electronic chess set. He's reading Faulkner's "As I Lay Dying" and it's cracked to the point 1/4 of the way through where the old lady bites it. From then on, they drag her carcass across that god-forsaken county. It wouldn't be too much to suggest a little foreshadowing at this point? Knowing that I'm about to leave on a planeride half way around the world? Would it?
Skinny and Noah finish up their chess game and we go down the hall to pick up more friends. Man and Tammy. A Thai guy and another Canadian. More literate, fun, attractive people around my age. Nice new friends is how I'm looking at it. And what do you know, it's a Thai *guy* and a western *girl* couple! Skinny decides to stay behind and write, we take a cab across town to Cabbage and Condoms, some successful contraception-themed Thai restaurant.
Good dinner. Back to the guesthouse to show pics and then gather Skinny for drinking on Khosan road. Suddenly I'm talked into extending my ticket one more day. I book a minibus to the airport for 5 am (when I'd have to leave anyway) and decide to try to change my ticket there. I'm having a real good time, like I'd never anticipated when I booked the tickets, so I figured I'd give it a go. Maybe it was Noah recounting the "Jesus" costume that he wore for Halloween that convinced me. Note: this is "The Jesus" with the purple jumpsuit that John Turturro played in The Big Lebowski.
Jesus: Let me tell you something pendejo, you pull any of your crazy shit with us, you flash your piece out on the lanes, I'll take it away from you and stick it up your ass and pull the fucking trigger 'till it goes click.
The Dude: Jesus.
Jesus: You said it man. Nobody fucks with the Jesus.
Noah's "I will fuck you on Wednesday" made the 6 occupants of the cab (minus 1 cabby) roar. Did I mention that *I* picked up Noah in the restaurant my first night in Bangkok? I'm pretty proud of that one.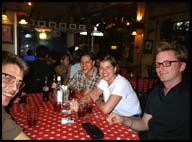 So anyhow, we buy a bottle of Sang-Thip whisky and proceeded to drink it, and endless bottles of Coke -- as is the style -- and laugh, and talk about the Thai girls trying to pick up western guys. I get Noah to talk to some cute trendy Thai girl with a scarf tied around her neck and snow leopard pants.

His moves turn out to be quite fruitful 'cause as they closed down the bar at 2:30, we were led out into the street and down an alley to a groovy little disco. Mostly gay and trans Thai men, some girls and the odd traveler here and there. It's nice to hook up with the locals this way. You'd never find this stuff otherwise. We dance and get real fly. Noah wearing a cowboy hat and big white fuzzy earmuffs at one point. I down 3 bottles of the Thai version of Red Bull, which is apparently much more potent here, and we're shaking our heads in disbelief at our dumb luck.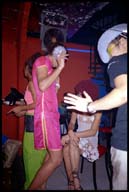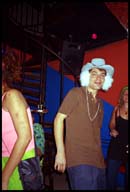 A couple gay guys and a couple girls (yes, I'm sure they were girls) latch onto me and decide to play keep-away with my glasses (every Thai I spoke to didn't like my glasses). I was so whacked I didn't care where they were and as we were filing out of the club at 4:15 I found them on the head of some girl. Only at this point do I realize that my night's almost over. But once again a party is promised and we're lead through a storefront back to a courtyard full of couches and vinyl booths. Apparently we're just going to chill here. I think some of the guys were a bit confused about my sexuality -- as I gave them few clues -- and were trying real hard to get me to stay but I had to Tuk-Tuk (rickshaw) it back to the guesthouse to pack, while drunk, wake Skinny up and buy his whole stash of Codeine and jam back over to Khosan road to wait for my bus.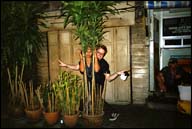 Tammy and Man helped me get through the next few sketchy/ultrasketchy moments. I walk up to the people drinking on the street in front of Mama's Travel and Tours -- the ones sitting by the only Minibus in sight -- and ask them if this is the bus to the airport, it being 5 to 5 and all, and some crazy witch-doctor-looking woman with black teeth in front, drunk off her ass, says, "Yeah, iz da bus but iz goin to Kho Samui." She's the driver. We clown around for a while and play cat and mouse. Her trying to make me freak and me trying to get her to break down and tell me what's up. Is there another bus? No answer, just gibberish and a dance in the street. When do you leave? Her: "6". Me: "No 5". Her: "6". Me: "No 5". Another bus comes but they want a different receipt -- different operator.
Finally I tell my friends they should go home. I wait till 5:15, getting worried, when the real driver pulls up. I'm pretty drunk still, kinda loud, and everybody else is tired and cranky on 3 hours sleep. Nobody to talk to so I'm able to half-fall asleep with my skull rattling against the window of the van. And I continue to sleep, standing up, in the long lines at the airport. I'm looking like the morning after version of the all-night raver that I was. I'm taking a picture of myself right now. I think I'm about done with this trip.
I tried to stay longer, like I promised my friend Noah, but I couldn't get anything but delayed standby and even though the ticket woman was going to go out of her way 'cause it was my birthday, I could hardly stand up and even though I did want to go back to Bangkok and I told Noah, my friend, that I'd fix my ticket at the airport and then take the bus back and go to the weekend market with my friend Noah, who can do "The Jesus" from Big Lebowski, I really couldn't manage it.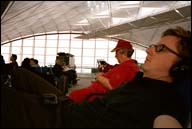 Some 65ish, bowling-pin-shaped man in a red jumpsuit and red mesh-backed baseball cap just sat down next to me here. I'm back. We're going to LAX.