Dave Goes Out. Dave Stays In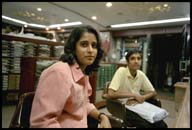 Boy, I haven't written in a while. I was unable to get a bus on Friday to Hampi, a pretty cool city of ruins and temples. I learned that I need to plan. Thursday was the rickshaw ride. Friday I ran some errands developed some pictures, ordered a shirt to be made, and typed. Saturday I slept in, typed, did some more shopping, and gave Venktesh the pictures I promised him. I now have allies in all the rick drivers that hang at the intersection of Brigade and Residency Road. Not a bad bunch of guys to have on your side.
Saturday is my favorite day in India. They let all the women out on the streets then. Fantastically beautiful. I realized how I'd been surrounded by nothing but men and how much I missed women as part of public life. I hadn't really seen or talked to any women in a week except for the ones in my house. I'll save my rant on the stupidly paternalistic Indian society for later.
Brian says he's got another party for me and I called Tabea but she was sick. We stopped at the Black Cadillac first. Tables of exuberant young Indians screamed "Brian, Brian!" as he walked in. He was the most well liked man in the bar. There were more incredibly beautiful women, this time quite fashionable. A girl or two, I thought, would look right at home in the hipster haunts of the Mission — you know, not just wearing store-bought western clothes but actually workin' it out. The guys were pretty lame, except for Gautum, dashingly effeminate, and Humanshu a fashion designer with green hair. Brian took special care to introduce me to everybody and girls were all, "Dave is so cute" — right in front of me. Refreshingly liberated. I wanted to go wherever they were going but we were going to a party and they were going to JJ's, a disco.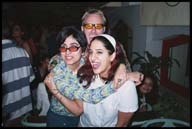 I have to say, the people in the bar were really tearing loose. I got there and the booze had been cut off and the security guard was trying to shut the door. Brian had to wrestle him and pry the door open while yelling, "My wife's in there". There was a real "prohibition era" gusto to the joint. (They turned the taps off but you still seemed to be able to get a Kingfisher out of a waiter.) Apparently this youth culture — discos, etc. has only happened in the last 2 or 3 years. I was so amazed at the atmosphere I had to ask more questions. I found out that no one drinks in high school even though there's no drinking age. (no ID either). This seemed to explain why the partiers were not as matter-of-fact as the people in their 20's in the US, who just sit around and talk over beers or cocktails and try to look swanky. These people swilled the stuff.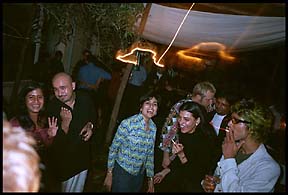 Everybody hugs and people flash photos of "bar poses" (smash 3 or 4 heads together and poof) and we leave to take another James Bond-like car ride through Bangalore. We arrive at a party that has security guards, waiters, bartenders and DJ's, lots of partying Indians and a few timid ones as well. The Hindisco music tended to suck and most guests didn't know how to dance — stiff looking like middle-schoolers. We were "crashing" this party. Niharika explained that we knew the hosts and weren't invited, which is worse than going to a party where you didn't know the hosts and weren't invited. But I figured this was a bash and any bash totally disqualifies anyone from the ranks of "crasher". Hell, except for the little apartment get-togethers I seem to find myself at, I guess I crash all the parties I go to.
So I'm introduced to more Indian women (thank god) and boogied and danced and "held my own" according to Brian. Got home at 4am, slept 'til 12:30 and Zareen (Niharika's mother) says "come down for lunch". I said I'd be right down and threw on shorts and sandals, lookin kind of scruffy still. Turns out that I'm thrown in a car with Granny and driven to a friend's luxury apartment were we're guest hosts at big party/lunch/family get-together. I wasn't ready for this. Zareen was just her usual "oh comecome now!" firm and friendly self. I met so many people, Brian cooked the Thai food and we listened to Steely Dan. It was very un-indian except for the incredibly expressive hospitality, warmth, acceptance, grace, friendliness and love. That was quite natural.
The host was Brian's singing partner in his band, very gracious and a ringer for Diana Ross and I eased right into the living room chitchat, sticking mostly to the women, somewhat aware that I'm slightly breaking the natural sex segregation that goes on. I met Smita, a college girl whom I was smitten with, and 4 other young Indian families that were somehow related. I realize that I'm feeling more and more like Brian's brother Eben, my friend who's been to India 4 times and I'm sure he's been in this same situation. I'm even wearing his pants. I feel like his ghost and I'm trying to act like I think he would, caring, open, funny...
I had a moment with Granny on the back porch (about 8 feet from a huge power substation). We've spent a lot of time together during my stay. After each meal at the house this week everybody would go off and do their things and Granny would take a walk around the house. Sometimes I joined her. It's about 30 steps from the living room to the kitchen. There's a lot to talk about.
After she told me again of Partition Time, when India and Pakistan split in '47 and her and her Army husband had to pack up in a hurry and take their whole life south. And after we discussed what she's going to do on her 87'th birthday. And after we talked about the fire ceremonies of the Zoroastrians. And after there wasn't much else to say. I turned to her out of the blue in a moment of silence and said, "You know, I'm really happy right now." She was so delighted to hear that and a big smile spread across her face. Within a few minutes I found myself sitting between Smita and Brian and telling him that, and how great was the feeling I had on the porch, and later I told Zareen how unusual it was for me to be surrounded by so much family and how it seemed equivalent to Christmas or Thanksgiving.
But it was only Sunday. I really can't explain how I felt. It was the best feeling so far. My experience gets richer by the day. But it's not something I can explain. Tomorrow I'm packing and I'm out the door, probably to Mysore and Kerala. Later. Thanks for you house Zareen, thanks Granny, for your family.