Tales of The Road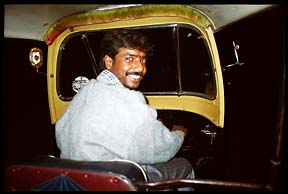 A crazy thing happened to Tabea and I last night. We were being driven way the hell out of town by Venktesh, our rickshaw driver, and we had stopped the rick to talk and decide whether we wanted to go any further. Venktesh kept upping the price and we were realizing how far out of town we were. We were on our way to a (supposedly ragin') party at a farmhouse, had been in the rick for about 1/2 hour, it was night, cold, dangerous, we had not enough money, (notice my diction becoming Indian), we would not know anybody at the party we were headed to, and Tabea had to get up at 6:30 for work. I really wanted to go to my first Indian party and we probably could have gotten a ride home from somebody there but.......
I'm watching the road and Tabea is talking to Venktesh (she very good with the drivers. Sometimes they look at me as if to say, "You're letting the woman do the talking? What kind of man are you?"). There are about 5 piles of dirt and rocks on the other side of the road. (Rocks are made by hand here. Each individually chiseled from slabs of granite by actual humans). When they do roadwork they just dump the raw materials, dirt, rocks, and bricks in piles, (these were about 3 feet high) and eventually the workers get around to assembling the road by hand. Slowly, I might add.
So I watch this old rickety-rickshaw put-putting down the road and I say to myself, "That idiot is heading right for that big pile of dirt." In slo-mo I watch him drive up and fly off it and pitch to the right and land and slide on his side. It looked like the weak and pathetic crash that it was. The cloth cover that is on the steel rods going over the rickhsaw rips and shreds on the pavement and 6 Indians are trapped inside. Venktesh, Tabea and I run to the wreck and some other bystanders and another rick driver start pulling bodies out. This guy is (rather severly) yanking people out and I'm thinking about all the things that Brian had told me about wrecks in India. They're hellish. He once saw a woman get hit and dragged under a rickshaw about 50 feet. Niharika has seen a person decapitated and a head rolling across the road. Last week in Bangalore, an old man fell out of a bus at the bus stop and another bus came up and squished him. The people on the bus beat the driver of the other bus up. Brian added that people are very wary about helping out, because if you do, you might get stuck taking the person to the hospital and because of the way things work, might have to pay the bill.
Well, nobody hesitated in this situation and we soon had all the crash victims sitting by the side of the road. I gathered all the combs, flip-flops, bags, dolls, and saris that were laying all over the street (and getting run over by cars still flying by). One woman had a nasty knot right over her collarbone but she could freely move her arm in all directions so I figured it wasn't broke. They were all put in another rick within 5 minutes and zoomed off. 6 people (crash victims!) in a rickshaw. Well, only pictures could do that one justice. Tabea and I decided to go home.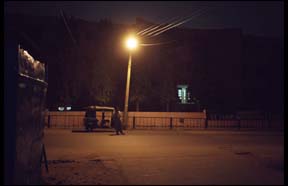 I dropped Tabea off and took a couple of pictures of my rick driver before we parted. And after another long rickride down Vivek Nagar and National Games Complex Road was over, I knew a lot more about him and had made a commitment to him to bring him a picture. Oh, and I gave the guy Rs.500 (which, for 2.5 hrs of rickshaw time, is way overpriced) and he called in sick the next day.