A Day In Bangalore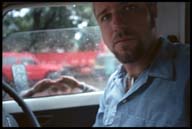 I hugged Brian (gives good solid hugs) and he took me to his car. I went to the wrong side to get in (drivers on the right) he said he's blowing off work and we'll go to see his wife at work. Niharika is the head jewelry designer at Titan, a big watch and jewelry company in India. It was nice to go straight to a corporate cubicle environment. I had no culture shock whatsoever. I was pleased to find that Brian is capable of the thrilljocky Nintendo driving style that is required here. Keep your arms inside the vehicle. I mean it. Cars whiz by the opposite direction only 1 foot away at 40 mph. Distances of 6 inches are not uncommon for traffic moving in the same direction. Oh, and be sure to honk out your every move.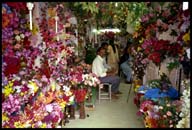 Niharika introduced me to her fellow office workers, watch designers and others, all young, western and smart. I was very impressed. We decided to go to lunch and look at some houses — Brian and Niharika are looking for a place. I tagged along as we walked through apartments that were still occupied, (talk about sightseeing, no tour bus views for me). I was getting the inside line. Niharika wanted to go flower shopping so Brian dropped us at her favorite stand and I stood in the rain and snapped pictures while she picked flowers. I began to wander and look at some other shops. A couple walked by and stared for a while at me. Not unusual, everyone stares at me. Then the couple that had just walked by caught up with me and asked me if I wanted to be in a "Hindi movie with Miss Universe" I said "oh, just an extra?" they said "no, we want you to be on the poster, big part. can you come to the holiday inn tomorrow at noon?" "Sure" I say, and just then Niharika waked up and got the scoop. They invited her also and I asked if they wanted more Americans and they said yes and I said "my friend Brian's American too" and she said we should all show up. Later, Brian was laughing 'cause his brother has been to India 4 times and always wanted to be in a Hindi film and I got asked on my first day here.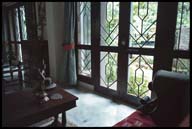 Then we went home, a palace by my standards, a truly gorgeous 3 story house with marble floors and terrace gardens out every window. Every piece of furniture is intricately carved and it looks like a gallery. Brian showed me to my room — complete with 4 guitars, a synthesizer and mini recording studio. Slammin! We listened to the demo of Brian's band, they just got signed by Sony India. They're kind of on the Hindi-pop side of things with a little dub/hip-hop/ambient stuff goin on. It's about 6pm and I decided I need to take a nap before we get Chinese food with Brian's friends. I never wake up.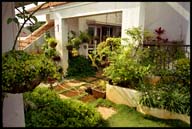 The next morning, Brian gives me a ride into town on his way to work, gives me a few walking around tips and I'm on my way. I go to the tourist offices and get brochures and maps, walk a few of the streets, it's tricky to cross the streets. There are no signals at most intersections so you have to start out and let some cars go behind you and some in front, kind of like that old video game, Frogger. Plus, the cars are on the opposite side of the road so it's all bassackwards. The sound of a moderately busy street in India is equal to a huge, snarled traffic jam in Manhattan. Honking is incessant.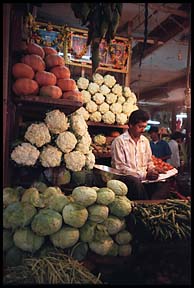 Brian told me to head up near Commercial Street. I was looking at your average 3rd world street scenes — people sitting on trash heaps picking through stuff, kids squatting and shitting. If you've ever been on Haight Street in San Francisco or Telegraph Ave. on Berkeley, it's basically the same, except when you get to the Commercial Street area, it's an endless grid of tiny alleys crowded with shops. In some areas, each street will have will have virtually all the same shops — shoes on one block, textiles on another. They have streets of all motorcycle parts, all cigs and tea. My favorite were the meat and poultry markets, dark and starkly lit by bare light bulbs, carcasses hanging everywhere, and the fruit, colorfully stacked and everybody saying "hey boss, where from?"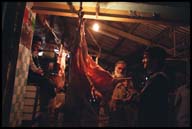 I finally found a place to eat. There were no cafes neatly dispersed throughout the shops, they were all next to one another and I walked through 10 "streets", each with 50 shops on them and found no where to eat. Let alone just sit down and rest. The cafe I chose was all vegetarian, like most here. I sat at a table and began to sweat immediately. They offered me no menu, they spoke no English. They just said words that were the names of foods I'd never heard of. I asked for "mineral water" as I was not going to drink the water sitting in the little metal cups on my table. They said "no mineral water" and I got up to go. There were 5 or 6 young boys all staring at me. They looked like they wanted to bust out laughing. As I was walking out, they pointed me to cashier who spoke English and he showed me the menu on the wall. I didn't know what anything was so I pointed to a picture. "masala dosa". a bunch of Indian spiced veggies rolled in a crispy fried pancake with some chutney on the side. I should have torn pieces off as I found out later (with one hand mind you, left is for your poopschute) I just picked it up and ate it like a burrito while the entire restaurant stopped eating and watched me.
When I finished nobody brought me a rag or finger bowl. I sat there with a greasy hand. I was supposed to get up and pay the cashier but I just sat there and watched the guy across from me eat (the right way). One of the 7 or 8 guys waiting on me brought over a scrap of paper about the size of a quarter with Rs18 written on it. They were trying to give a hint. Just like the waiters at the restaurant in Bombay, who couldn't stand the fact that these white people wanted to sit outside in the 85 degree heat instead of inside with the AC. They'd pick up our beers and start to carry them inside and we wouldn't budge. They'd have a hurt and confused look on their face. When I paid the cashier he said I could wash up at the wash basin — a sink in the corner. There was a pipe with a metal nipple-like fitting on the end. I didn't see anything to turn or push to start the water. After laughing at me again, one of the boys came over and showed me that you pull down on the silver nipple like a cow udder and water flows. After that, I walked out, head high and smiling, into the shit covered bricks of the street.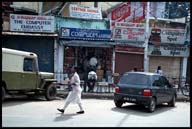 I walked down to the western part of town and I started to see a little of how Bangalore gets it's "Silicon Valley of India" reputation from. Tons of western looking Indians, kind of cute and pathetic little PC parts shops and "cyber cafes" — 5 PC's hooked to the net via satellite that charge Rs.1 per minute. About $1:50 an hour. There's no food or drink or printer and the rooms are usually 8X12 or something bedroom-sized. I took an auto-rickshaw home and had to call Babu, the house servant, from the street 'cause I thought the gate was locked.