Photo Resources
The inside scoop.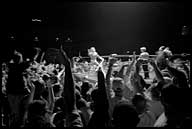 I've written a little FAQ about the video capabilities of the Sanyo VPC-SX550MD.
Here's a manual for the Canonet QL17 GIII. The "poor man's Leica". Thanks to Bill Schaffel for the scans.
I also have a Vivitar 285HV Flash manual. Kar Yan Mak made these scans and has many other manuals on his site.
I could list a million links but there's really only one that is necessary: http://photo.net/ by Philip Greenspun and his webserver. I got advice I dutifully followed from him and the people that contribute to his photocommunity (all the way down to what pixel radius to use on Photoshop's Unsharp Mask filter).
Also, if you're like buying equipment as much as I do, you'll love Jeff Albro's Impact! Used Photo Equipment Guide
I also dig CameraQuest and Bengt's Photo Page
<begin vanity section>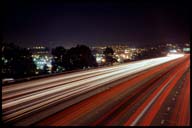 What I do
Get Input
I take still pictures on film. Most of the pictures are from my Ricoh GR1. I love this camera. It's got it all. Nice, wide, fast, sharp lens, aperture priority, and it's small and ergonomic. I think the single most important feature of a camera is whether you use it. So by that criteria, this is the best camera I've ever had.
However, that's changing. I've discovered that I'm a rangefinder kinda guy. I really burn the film when I've got one of these retro beauties on me. My bodies are a Voigtlander Bessa-R and a Canon P. Both are Leica threaded to take my Voigtlander Classic 35mm 2.5 and Heliar 75mm 2.5, and my Canon 50 1.2. Fast, lean and clean baby.
Some of my other favorites are my Holga, my Rolleiflex 2.8 E and my Canon Canonet QL-17 GLIII. Sometimes I pop out the Moskva-5 folding 6x9 or I lug around a Graphlex Anniversary Speed Graphic 4x5. For instant gratification, I also use various Polaroids and digital cameras. My favorites being the iZone, the SX-70 and the Sanyo VPC-SX550. You'll notice, not an SLR in the bunch.
I fully endorse using good, old cameras. They've taught me how to take pictures.
I try to buy fast, pro film that's refrigerated. The more I shoot, the more I find myself grappling with too much contrast. Slide film is the best for scanning. I think I'm through buying negative film, but if I had to, I think I'd use Fuji NPH-II. In my Rolleiflex I like Fuji RMS 100/1000 (not much difference in quality to me at EI1000) and for 35mm I use Provia 100F, 400F and sometimes Kodak E200. I also shoot tons of TMax 400 and 3200 in my old cameras and occasionally Kodak T400CN pushed to 1600 or 3200. (yes this works, and works well).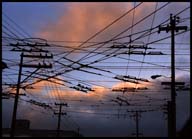 Make Output
I scan and print digitally. Once my film's developed, the rest is digital. I'd like to be able to afford a drum scanner but right now, I'll limp along with whatever film scanning is best and cheapest on the market. Printing was done by me on an Epson Photo 870 until I sent it back because of Orange Shift. Robyn Color in SF does big prints on their Fuji Pictrograph or on the Lightjet 5000. Printing is the easy part.
A good film scanner is the holy grail as far as I'm concerned. I'm still searching for one that doesn't cost $80,000. I've been through 3 stages with this one.
1) When I started out, I scanned my Fuji Superia 400 and Kodak Gold 400 *negatives* with a HP PhotoSmart Scanner. It's the cheapest one on the market but it makes a 75K web jpeg look better than any print I've ever gotten back from the lab. Not usable for slides however. A few years later, I can say it was good hardware to learn on. (I sure know my shadow noise when I see it!) For software that is actually usable with this scanner, try VueSmart from Hamrick Software. My advice is that you also check out ScanTips.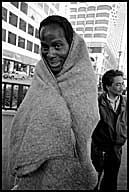 2) I've had the more recent 35mm photos scanned by Color2000 in SF and ProLab in Seattle onto Kodak Master PhotoCDs. It's better than the HP and saves me time but 2 CDs (about 170 images) cost me more than the HP scanner.
3) The cost of medium format Kodak scans has driven me to buy an Epson 1640SU Photo scanner. And for the first time, I am happy with home medium format scanning. It is great! My only beef is that the film holders suck and your film curls up after a few minutes under the lights. Don't let this happen to you. The scanner needs FLAT film in order to focus correctly.
Oh, and normal flatbed scanners are almost worthless for photography. Don't scan prints if you can help it.
I Photoshop everything. I try not to crop or otherwise mess with my photos. I do overall contrast and color adjustments and that's about it. It took me about 500 hours working with Photoshop to learn how to use it.
</ end vanity section>
davep